The Importance of Dehydrating Natural Gas
Natural gas dehydration is an important step in processing natural gas. Over-saturated gas can cause corrosion, reducing the lifespan of gas processing equipment, and ultimately causing the gas stream to not meet pipeline specifications. If gas does not meet pipeline specifications of 7 pounds per mmcfd, a natural das dehydration unit is needed to prevent these harmful effects. Natural gas is dehydrated by being condensed from vapor into liquid form and then removed by a gas dehydration unit, also known as a gas dehy, using either adsorption or absorption. CROFT offers two types of natural gas dehydration equipment including solid desiccant dehydrators referred to as Passive Dehydration Systems (PDS), and Glycol Dehydrators (TEG).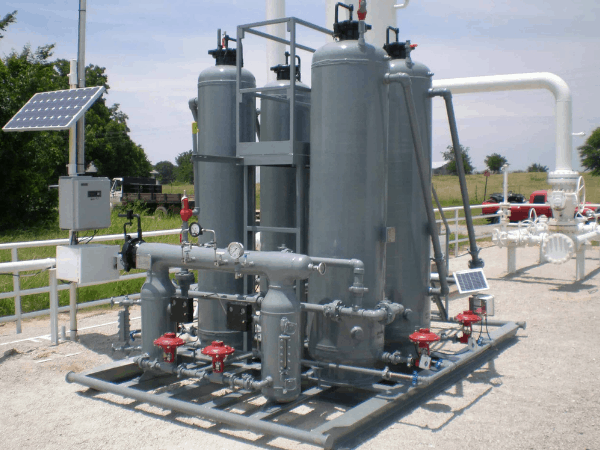 Natural Gas Dehydration Unit with Zero Operational Emissions
Croft Production Systems manufacturers solid desiccant dehydrators that offer a safe, easy, and effective solution for dehydrating gas.  CROFT will properly size these systems to be most efficient for your specifications and we offer flexible leasing contracts to meet your needs.
Our Passive Dehydration System (PDS) is CROFT's preferred system for gas dehydration over glycol dehydrators because the PDS is a simple design without multiple moving parts, open flames, safety hazards, and toxic emissions. This dehydration unit requires less maintenance and is significantly safer for personnel and the environment.
Natural Gas Adsorption Method
CROFT's Passive Dehydration System uses an adsorption process to dehydrate natural gas.  This works by wet gas passing through the vessel and collecting on the surface of the solid-desiccant material, which we call enviroDRI. The enviroDRI adsorbs the water and dissolves into a non-hazardous brine solution that can be drained to the water storage on location.
Solid desiccant dehydration units have a high adsorption capacity, a low resistance to gas flow to minimize pressure drop, are both non-flammable and non-corrosive, and are inexpensive to fill.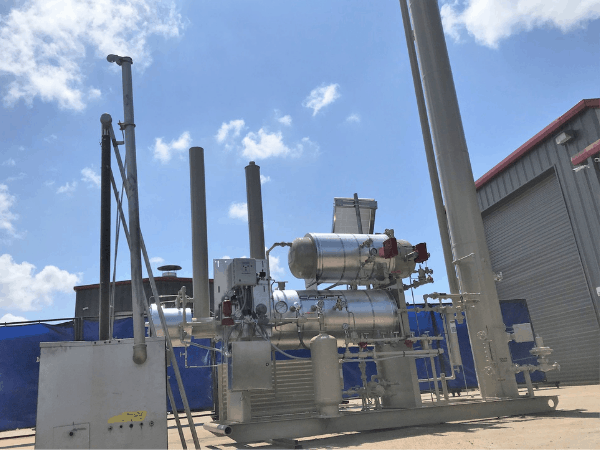 Operator-friendly Glycol Dehydration Units
CROFT offers new and refurbished glycol dehydrators that offer optimal performance in varying conditions. As a new manufacturer of glycol units, CROFT has created a design that has improved trouble areas of glycol units, making them more operator-friendly.
The components included on our standard glycol units are typically options from other manufacturers and we offer upgrade options as well for the units such as BTEX units for emissions elimination, Burner Management Systems for exceptional process control and reliability, and safety devices to protect pumps from costly rebuilds.
Natural Gas Absorption Method
Glycol units, or TEG Units, operate using an absorption process to dehydrate natural gas.  This works by lean glycol being pumped to the top of an absorber where the glycol will meet the wet natural gas stream and remove water by physical absorption. Once the glycol removes the water from the gas stream, the rich glycol is carried out of the bottom of the column. The dry natural gas then leaves the top of the absorption column and is fed either to a pipeline system or to a gas plant.
If you are looking for production or processing equipment for your well site, an Account Manager will be in touch with you within one business day.