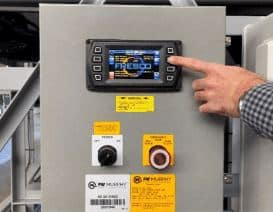 Utilizing Fresco Thermal's patent-pending cooling technology allows the Aeris Cooler line to have maximum modularity and fit most any natural gas cooling application.
Size Options
4x24 (most popular), 3x18, 2x12. The sizes are dependent on the number of cells x volume. Each individual cell and rack is rated for a volume of 6 MMScfd and can be added and subtracted from the package with ease. This level of modularity coupled with the state of the art cooling technology puts this gas cooler at the forefront of the oilfield technology.

Technology
The Aeris Cooling System apart with the automatic or manual temperature set points that control the fans, allows the client to look at the panel and determine if each cell is running at the required percentage and at a constant rate or obtaining the desired temperature that the client set. In the automatic setting mode, the fans will only use power, based on what is needed to reach the requirements determined at setup. Often, the fans will automatically shut off or run at a low percentage at night due to the ambient air being sufficient to make the temperature spec. This on-demand power also applies to times when an electric fan may malfunction or go down. Each of the air cells contains 8 24 V DC fans. If one were to go down for some reason, the others would speed up to compensate for this. This means no loss in your production.

Flexibility
The patent-pending design of the Aeris Cooling Systems creates maximum flexibility that allows up to four individual cells to be operated independently in either automatic or manual mode so that it can run in any combination of parallel, series, or separate process flows. Each cell is fitted with 2" NPT connections to allow for individual relief valves based upon conditions and preferences.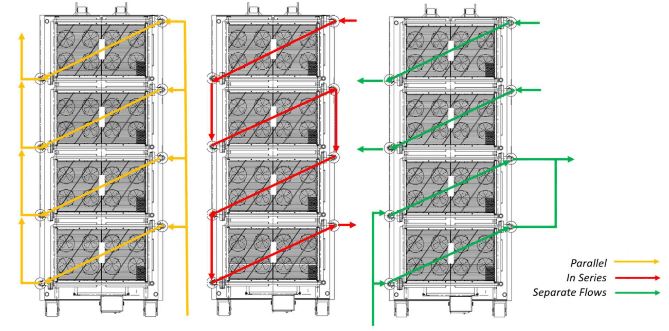 Mobility
Aeris Cooling Systems are designed to fit into any standard shipping container and not be a permit load. This can save money on transportation costs. The standard size of the Aeris 4 X 24 is 7' tall, 20' long and 8' wide and weighs around 11,750 lbs. This can be lifted by crane or rolling tailboard, but there is an added option of using a roll-off truck for added precision and cost reduction.

If you are looking for production or processing equipment for your well site, an Account Manager will be in touch with you within one business day.