Simple Solution for H2S Removal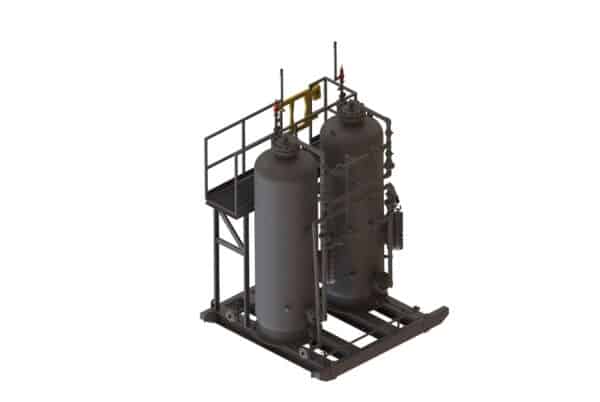 Iron Oxide Systems (IOS) utilize one of the most common methods of gas sweetening in which a chemical reaction process using iron oxide media in a contact vessel removes H2S from the gas stream. This unit offers excellent removal of H2S and other mercaptans and works well with varying volumes and H2S levels. The low media cost and simple unit operation make this unit an efficient solution for sweetening natural gas and biogas.
How does an Iron Oxide (IOS) Unit Work?
The Iron Oxide System operates by gas traveling through contact towers filled with a media bed of iron oxide pellets. The pellets of iron oxide react with H2S in the gas resulting in sweet gas and leaving water and elemental sulfur. The reacted iron oxide forms a stable and safe byproduct completely neutralizing the H2S. Typically configured in a single or multi-vessel configuration, the system operates as a batch removal system where the media is replaced once spent. The spent media can be disposed of in traditional landfills without the need for expensive toxic disposal.
If you are looking for production or processing equipment for your well site, an Account Manager will be in touch with you within one business day.