Dehydrate Natural Gas with Zero Operational Emissions and No Moving Parts
What is a  Passive Dehydration System® (PDS)?
Croft Production Systems, Inc. has developed a solid desiccant dehydrator that is a safe, easy, and effective method for natural gas dehydration; CROFT will properly size and lease a system to meet your needs. When signing a lease with CROFT, you will have a dedicated account representative and service manager over your location because your success is our success.
Passive Dehydration System®: the alternative method to the Triethylene Glycol Unit.
Why Choose a Passive Dehydration System over a Glycol Dehydrator?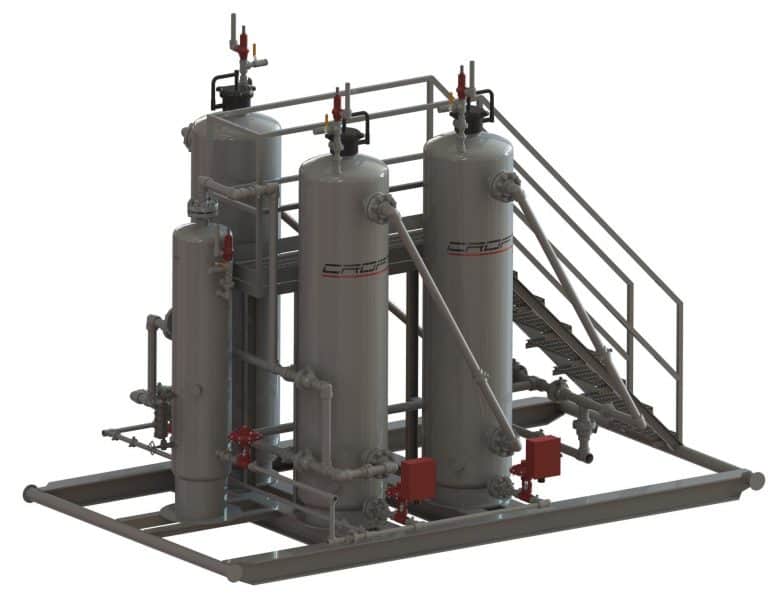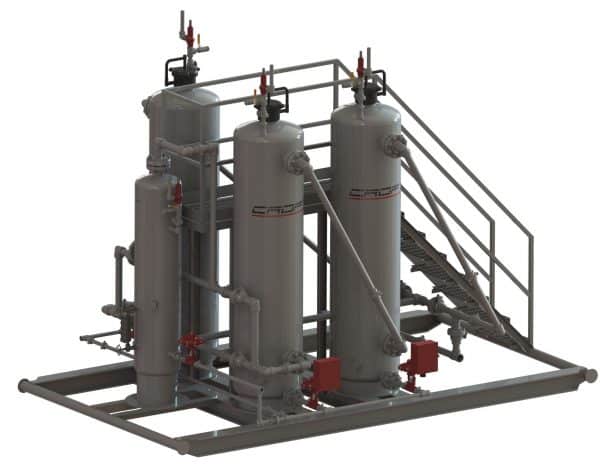 So why choose a PDS over TEG  or glycol dehydrator? In today's competitive environment, evaluating performance, and identifying alternative methods for natural gas dehydration is becoming increasingly important.
This process wastes gas, costs money, and contributes to local air quality problems as well as global climate change.
There are three main benefits that you will receive with choosing CROFT's Passive Dehydration System®(PDS) over the traditional Trietylene Glycol (TEG) unit.
Economical: Save the extra time and money that would be spent on obtaining an air permit. Preserve your gas stream, eliminate emissions, and save money by choosing our dehy units.
Environmental: Glycol dehydrators vent methane, volatile organic compounds (VOCs), and hazardous air pollutants (HAPs) to the atmosphere from the glycol regenerator and also bleed natural gas from pneumatic control devices. Our Passive Dehydration Systems have zero operational emissions.
Safety: Unlike glycol units, dry desiccant dehydration units have no moving parts or open flames
Learn more about the advantages of our Passive Dehydration System over a TEG Unit. 
How a Passive Dehydration System Works
This dehy unit works by wet gas flowing upward through a series of dry desiccant vessels each containing our specifically formulated enviroDRI® desiccant. This product absorbs the moisture and dissolves into a brine solution that is drained to the water storage on location. This product is a non-hazardous material that has no special disposal requirements. This gas dehydration unit is designed on a 30-60 day service cycle. During this time frame, the CROFT service team will visit the location to conduct all preventative checks, maintenance, and handle the refilling of the product.
CROFT recommends the design to have two or more bottles in order to continuously dehydrate the gas while one of the vessels is being serviced, avoiding shutdowns. This state of the art modular design can be utilized to add or remove dehydration capacity to accommodate any long-term fluctuations of gas volume.
Supply Gas Dehydrator
This is a smaller version of our Passive Dehydration System®. We developed this equipment due to the increased customer demand for smaller sized dehydration units. This unit differs from our PDS® in that it is able to be purchased. We will continue to utilize our specifically designed enviroDRI® desiccant; it is now more conveniently packaged and is able to be shipped to your destination. This unit utilizes the same technology as our larger systems so that consumers will experience the same benefits. Its main goal is to accommodate the dehydration of smaller volumes of gas streams by using our industry-leading design.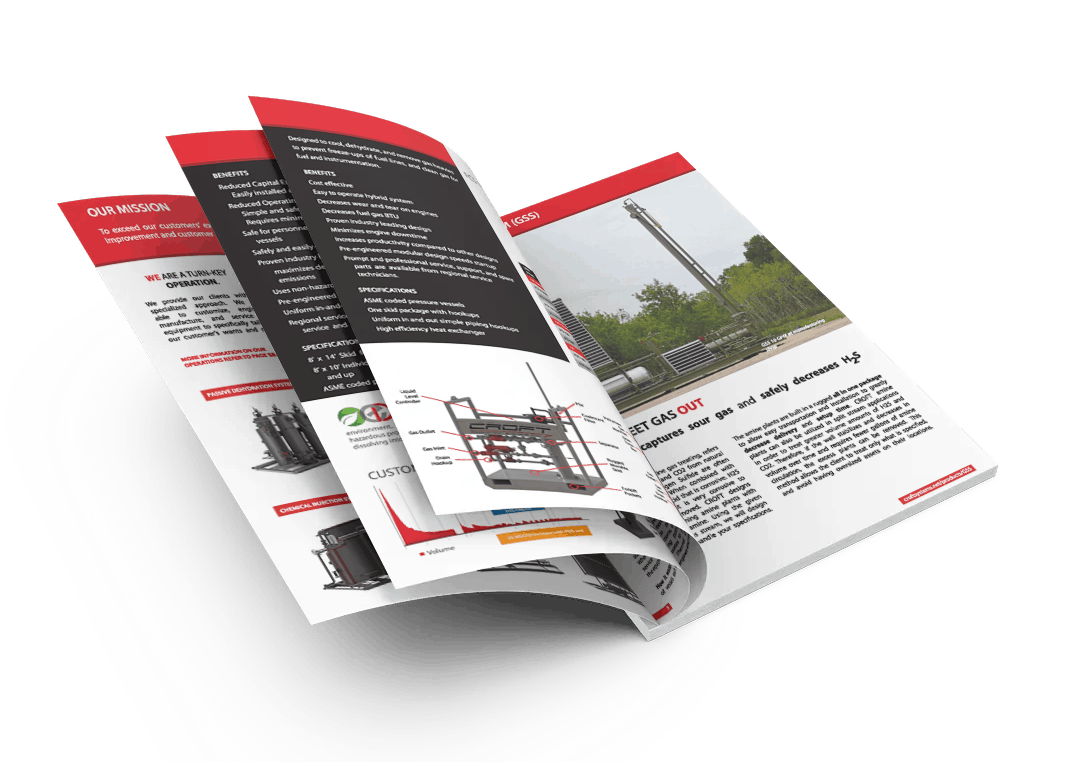 Download the Croft Catalog
Download our catalog to learn about our Passive Dehydration System® production equipment we offer for well sites across the globe. We've got more details and specs than you can imagine and can be a real asset when sharing with your team.