Treating Field Gas for Dual-Fuel & E-Fleets
When using field gas to power dual-fuel engines, it is imperative that the natural gas is properly processed or the whole operation can fail. CROFT offers solutions for separation, dehydration, and BTU reduction, which are all crucial steps to making field gas suitable for powering dual-fuel engines and e-fleets. 
Separators & Coalescing Filters
Prevents Slugging and Removes Particles
When treating field gas for use in high-speed engines, it is important to have proper separation in order to prevent slugging and to remove unwanted particulates from the gas stream. This can be achieved with CROFT's separators and coalescing filters.
Separators prevent slugs from entering the processing equipment downstream. CROFT offers horizontal and vertical separators in both two-phase and three-phase designs.
Coalescing filters remove fine particles such as dust or mist that are too small for a separator to remove. This level of filtration for dual fuel and e-fleets will increase the longevity of the engine life.
Separators and coalescing filters can be added to all-in-one compact skid packages for easy transportation.
Dehydrates Gas with Zero Emissions
Dehydrating your field gas will prevent hydrate formation and corrosion. These issues can halt production and decrease the life of e-fleet and dual-fuel engines.
CROFT offers traditional glycol dehydrators as well as our preferred dehydration unit, Passive Dehydration Systems (PDS). The PDS units are solid desiccant dehydration units that provide a safe, emission-free alternative to glycol dehydrators or TEGs.
This dehy unit works by wet gas flowing upward through a series of dry desiccant vessels each containing our specifically formulated enviroDRI® desiccant. This non-hazardous product absorbs the moisture and dissolves into a brine solution that is drained to the water storage on location.
CROFT Passive Dehydration Systems can be skid mounted or trailer-mounted with separators and/or coalescing filters for easy transportation.
Fuel Gas Conditioning System
 Recovers Valuable NGLs and Reduces BTU
When treating field gas, lowering the BTU removes heavy hydrocarbons and prevents hydrate formation and derating engines. With the reduction in the BTU, we can take otherwise unusable fuel from the wellhead and run dual fuel and e-fleet engines. By separating the NGL's and dehydrating the gas stream, we remove most of the heavier components that often cause engine issues.
The Fuel-Gas Conditioning System incorporates the Ambient Cooling System to initially cool the gas. The Joule Thomson System then removes hydrates and hydrocarbon liquids, reducing the BTU.
CROFT can custom design a fuel gas conditioning system to include line heaters, meter runs, and separators to provide an all-in-one package for e-frac fleets.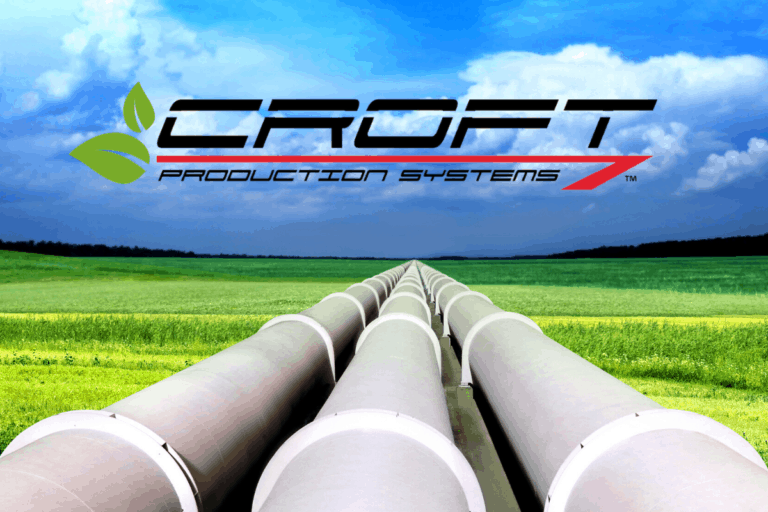 As the push for sustainable energy is becoming increasingly renowned, companies are taking stock in how they can contribute to its demands, leading to a rise in renewable natural gas.
If you are looking for production or processing equipment for your well site, an Account Manager will be in touch with you within one business day.