Solutions for Processing Renewable Natural Gas
The use of renewable natural gas is one way that companies can reduce emissions and contribute to creating sustainable energy. By separating, dehydrating, and removing H2S and CO2 from biogas, we are left with a biomethane, a cleaner-burning fuel that can be injected into gas pipelines. CROFT offers several product lines that can help treat renewable natural gas efficiently and our engineering team can customize biogas processing equipment to your specifications.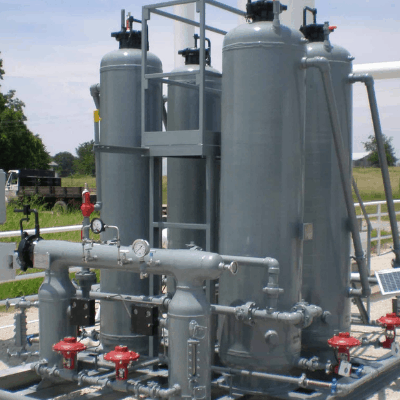 Dehydrates BioGas with Zero Emissions
CROFT Passive Dehydration Systems can be skid or trailer mounted for your biogas needs. Biogas is fully saturated and must be dried to make pipeline-compatible renewable natural gas. These solid desiccant dehydrators are a safe, emission-free option for dehydrating biogas.
This dehydration unit works by saturated biogas flowing upward through a series of dry desiccant vessels each containing our specifically formulated enviroDRI® desiccant. This non-hazardous product absorbs the moisture and dissolves into a brine solution that is drained to the water storage on location.
CROFT Passive Dehydration Systems can be skid mounted or trailer-mounted with separators and/or coalescing filters for easy transportation.
Gas Sweetening System (GSS)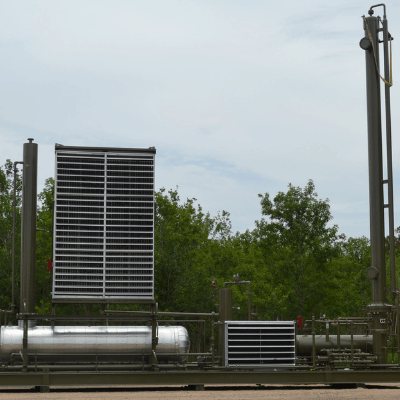 All-in-One Skid for Sweetening Biogas
Biogas sweetening refers to the process of removing H2S And CO2 (hydrogen sulfide and carbon dioxide) from biogas. Carbon dioxide and hydrogen sulfide are often found in raw biogas. CO2, when combined with water, will create carbonic acid which is corrosive. H2S is an extremely toxic gas that is very corrosive to equipment and must be removed to create renewable natural gas that can be injected into the pipeline.
CROFT offers Gas Sweetening Systems (GSS), also known as an Amine Plant that can efficiently remove H2S And CO2 from biogas. The GSS are built in an all-in-one package to allow easy transportation and installation.
CROFT designs and manufactures gas sweetening amine plants with rates of up to 10 GPM of amine. Using the given parameters, we will design the most efficient system to handle your biogas.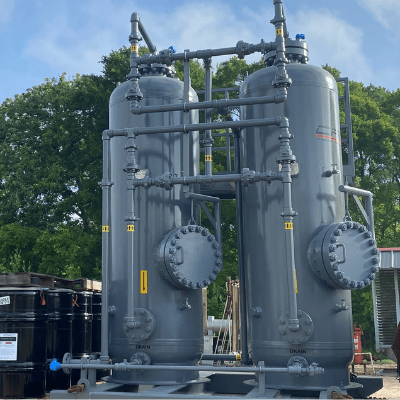 Simple & Safe Solution for H2S REmoval
Iron Oxide Systems (IOS) utilize one of the most common methods of gas sweetening, utilizing a chemical reaction process using iron oxide media in a contact vessel for H2S removal in gas streams. This unit offers excellent removal of H2S and other mercaptans and works well with varying volumes and H2S levels in biogas.
In an Iron Oxide Unit, the biogas travels through contact towers filled with a media bed of iron oxide pellets. The pellets of iron oxide react with the biogas to completely neutralize the H2S, resulting in sweet biogas.
Typically configured in a single or multi-vessel configuration, the system operates as a batch removal system where the media is replaced once spent. The spent media can be disposed of in traditional landfills without the need for expensive toxic disposal.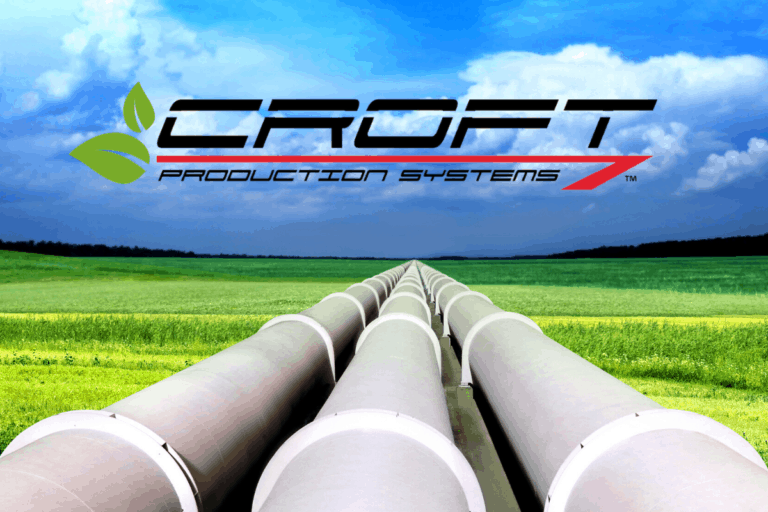 As the push for sustainable energy is becoming increasingly renowned, companies are taking stock in how they can contribute to its demands, leading to a rise in renewable natural gas.
If you are looking for production or processing equipment for your well site, an Account Manager will be in touch with you within one business day.