API 12F Storage Tanks
Manufactured API 12F Oil Storage Tanks are designed and created per customer specifications. A 12F tank is a welded-steel vessel designed to store flammable and combustible liquids. This is in accordance with the API Specification 12F entitled, Specification for Shop Welded Tanks for Storage of Production Liquids.  These tanks are constructed to store crude petroleum and other liquids commonly stored in the course of oil production.
The API-12F establishes materials, welding process, thickness guidelines, and tank sizes that fit within the standard. Additional accessories can be added to the tanks including walkway or stairway, a monogram of API, special exterior paint color, and vent line valves. Clients may also add services such as tank delivery and setup, tank cleanup and maintenance, tank repair, and commissioning.
These tanks range from 90 BBL up to 1000 BBL. API 12F tanks can be built to the customer's specifications, and are always welded to API specifications, as well as pressure testing.
Request for Quote if you would like to more information or want to receive a proposal.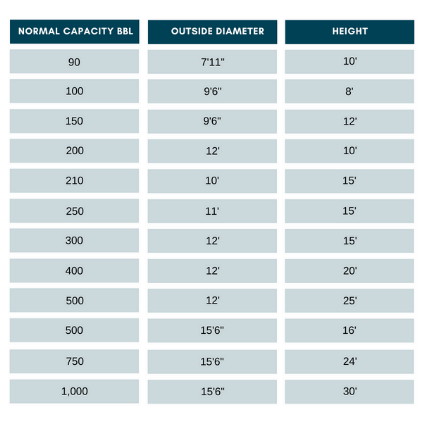 If you are looking for production or processing equipment for your well site, an Account Manager will be in touch with you within one business day.