The Importance of H2S Removal
Hydrogen Sulfide (H2S) is a very toxic gas that is dangerous for personnel and causes problems in both the upstream and downstream side of production in the oil and gas industry. Due to the detrimental effects of H2S, pipeline companies have specifications in place that prevent gas with high amounts of H2S to be put into the pipeline. CROFT offers two efficient solutions for removing H2S; our Amine Plant (GSS) and Chemical Injection System (CIS).
SOUR GAS IN, SWEET GAS OUT.
CROFT designs and manufactures Gas Sweetening Systems (GSS) also referred to as Amine Plants. Our amine plants are rugged, all-in-one packages that can be utilized in split stream applications in order to treat grater volume amounts of H2S and CO2.
CROFT designs and manufactures gas sweetening amine plants with rates of up to 10 GPM of amine. Using the given parameters for your particular gas stream, we will design the most efficient system to handle your specifications.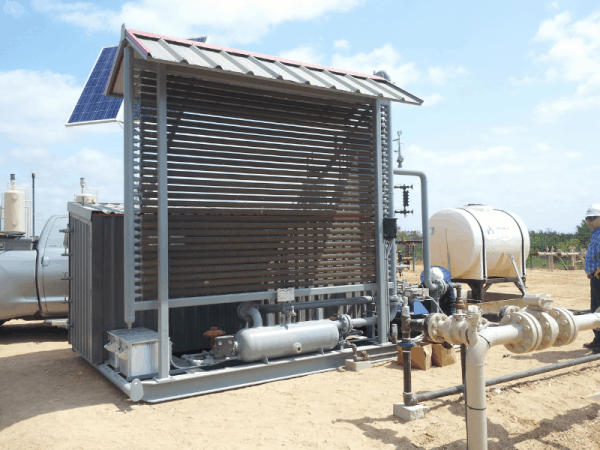 Multi-Use Injection and No Toxic Emissions
CROFTs Chemical Injection System (CIS) is a multi-use chemical static mixer implementation. When used for H2S removal, the CIS is a safe and effective alternative to amine plants without the need for permits or large capital investment, operating without emissions and fired vessels. CROFT's highly concentrated H2Scavenger efficiently removes H2S, decreasing the scavenger usage.
The CIS is ASME coded and uses solar injection pumps to eliminate emissions and maximize reliability. For H2S removal, the CIS is also NACE compliant.
If you are looking for production or processing equipment for your well site, an Account Manager will be in touch with you within one business day.