CROFT Passive Dehydration Systems natural gas dehydration unit that utilizes a specially formulated solid desiccant called enviroDRI to adsorb water from the gas stream. Below are our clients' most commonly asked questions about enviroDRI.
What is enviroDRI?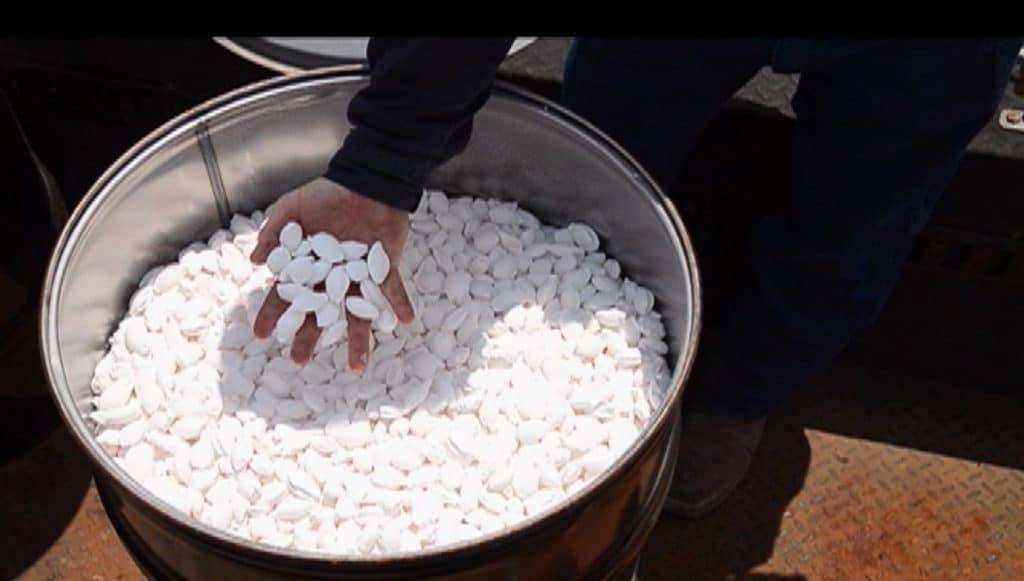 enviroDRI is a deliquescent desiccant pellet about the size of an almond designed to adsorb water from hydrocarbon streams. It was developed by CROFT and improved through years of field studies and analysis.
It is a proprietary mix of earthen salts shaped to optimally adsorb water vapor from natural gas to the required pipeline specification and maximize consistent performance.
Is enviroDRI hazardous?
enviroDRI is a non-hazardous earthen product. Spills are simple to clean up since it is a large solid product that is easy to pick up with gloves.
How long does enviroDRI last inside the vessel?
PDS units are designed to have a run time of 40+ days and be serviced once per month. The actual enviroDRI usage is a function of how much water is coming into the system. If more water vapor is entering the dehy unit due to increased volume, higher temperatures, or lower pressures then the run time of the unit will be reduced. Inversely if the amount of water coming into the unit is reduced, the enviroDRI will last longer.
What happens to the enviroDRI that is put in the vessels?
The enviroDRI gas desiccant will adsorb the water from the hydrocarbon stream and dissolve into a heavy brine solution. The brine collects in the bottom of our PDS vessels allowing it to be dumped away as a liquid. The unit does not need the enviroDRI removed from the vessels under normal operations. The vessels are topped off with new enviroDRI during the refill visits.
How is the enviroDRI disposed of or recycled?
The produced brine is chemically very similar to produced water and can go to the produced water tanks on location with no adverse effects. It can then be disposed of however produced water is handled for your location.
Once the enviroDRI has dissolved into a brine solution it is not economical to turn the solution back into enviroDRI. Currently, CROFT does not recycle the enviroDRI.
---
Purchase enviorDRI buckets online.
Request a quote for bulk orders of enviroDRI.