Dual Fuel Powered Drilling Rigs and Frac Spreads
Many cost-conscious oilfield companies have made the switch to either natural gas or dual-fuel, also referred to as bi-fuel, which is a mixture of diesel and natural gas. Dual-fuel engines run on a combination of diesel and natural gas, giving companies the flexibility to choose which fuel to use based on current cost and supply. Because of the large number of diesel-only engines in service throughout the industry, this conversion is most often achieved with the installation of a kit to existing engines to retrofit the engine to run on bi-fuel. While the overhead costs that come along with engine conversions can cost around $3 million, the conversion can pay for itself in less than a year with the money saved on diesel. While this may seem like costly overhead, it is significantly less expensive than a complete natural gas conversion, which can be upwards of $60 million.
Natural Gas-Powered Hydraulic Fracturing
Gas-Driven Fracturing also referred to as "electric fracking" or "e-fracking" replaces diesel with electric turbines that are powered by natural gas, and in some cases, the operating company's own field gas. Hydraulic fracturing technology has led to the natural gas boom and an increasing amount of frac spreads are now being fueled by natural gas, making them the consumer of the product they are creating.
Thanks to hydraulic fracturing, natural gas is readily available and extremely cheap. With natural gas prices being so low, this is a much more cost-efficient way for shale producers to fuel frac spreads than traditional diesel methods. Gas driven fracturing can also save costs by reducing the number of personnel required to man the operation.
Other benefits of converting to natural gas are the reduction of noise pollution and emissions. Electric stimulation reduces the amount of noise pollution, making frac spreads safer for personnel and less of a nuisance to surrounding communities. These turbines used in electric fracturing produce far fewer air emissions than traditional methods and provide an alternative use for natural gas other than flaring off the unwanted gas. Using field gas, also called pipeline gas, reduces emissions even further by creating less tanker truck traffic.
Making Field Gas Usable for Powering Drilling and Hydraulic Fracturing
Although there are many benefits to dual fuel and natural gas engines, there are a few challenges. Availability of existing natural gas gathering lines, as well as the compatibility of the field gas BTU, are roadblocks operations face in moving from diesel engines. Raw gas often contains water or contaminants such as CO2 and H2S, making it unusable straight from the well, but this is where CROFT can help.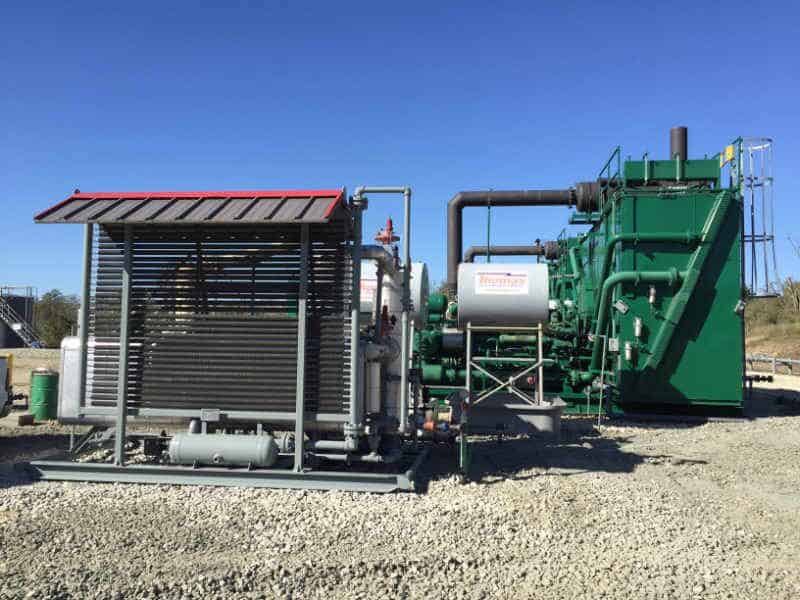 Fuel Gas Conditioning Systems (FCS)- Our Fuel Gas Conditioning System, the FCS-500, takes the high-pressure/high-temperature gas from the discharge of the compressor and cools, separates, dehydrates, reduces the BTU, and reduces the pressure to the required fuel system PSI.
With the reduction in the BTU, we can take otherwise unusable fuel from the wellhead, and run compressor engines, drilling engines, and hydraulic fracturing engines. By separating the NGL's and dehydrating the gas stream, we remove most of the heavier components that often cause engine issues.
Our FCS units have a proven record of increasing consistency and quality while decreasing maintenance costs for gas-driven engines. After utilizing our FCS units, we have seen clients go from weekly shutdowns to 6 months straight without any fuel gas issues.
If you are interested in a Fuel Gas Conditioning System, our sales team can provide you with detailed information on the equipment that makes up an FCS, and our engineers can run simulations to predict unit performance. We have several different sizes on hand, making lead times quick.
We also offer mobilized versions of these systems, which are great for temporary locations. The equipment is mounted on to a trailer, rather than a skid, and provides temporary pipeline drying, and short term H2S removal for drilling rigs and generator fuel gas applications.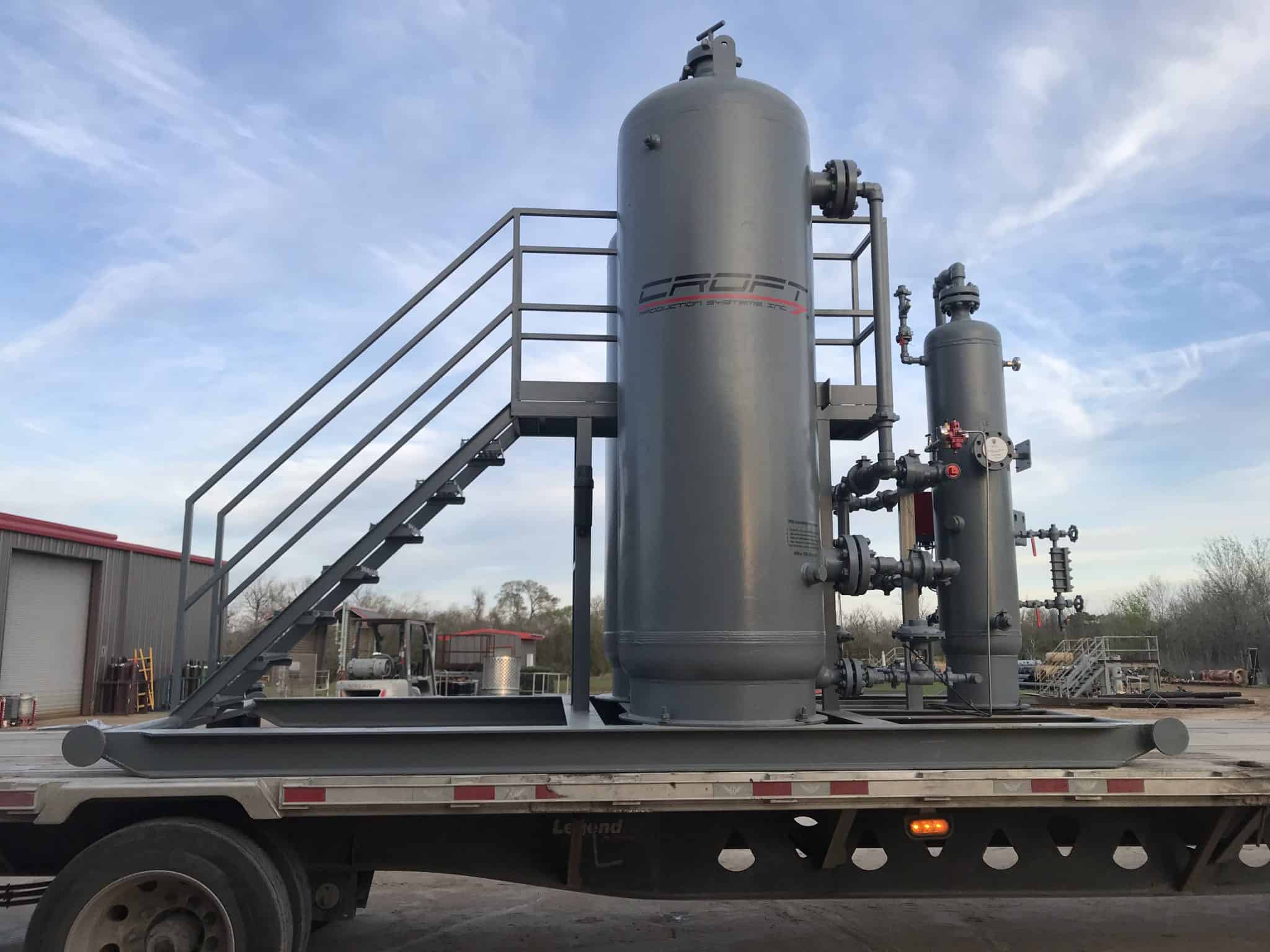 Our Passive Dehydration System utilizes solid desiccant to dehydrate natural gas in order to meet pipeline specifications or to make field gas usable to run compressors or drilling/ fracturing operations.
Passive Dehydration Systems have no operational emissions, making them much more environmentally friendly that a glycol unit. By utilizing a PDS to process your field gas rather than flaring it, your operation can greatly reduce their footprint and exponentially cutback their emissions.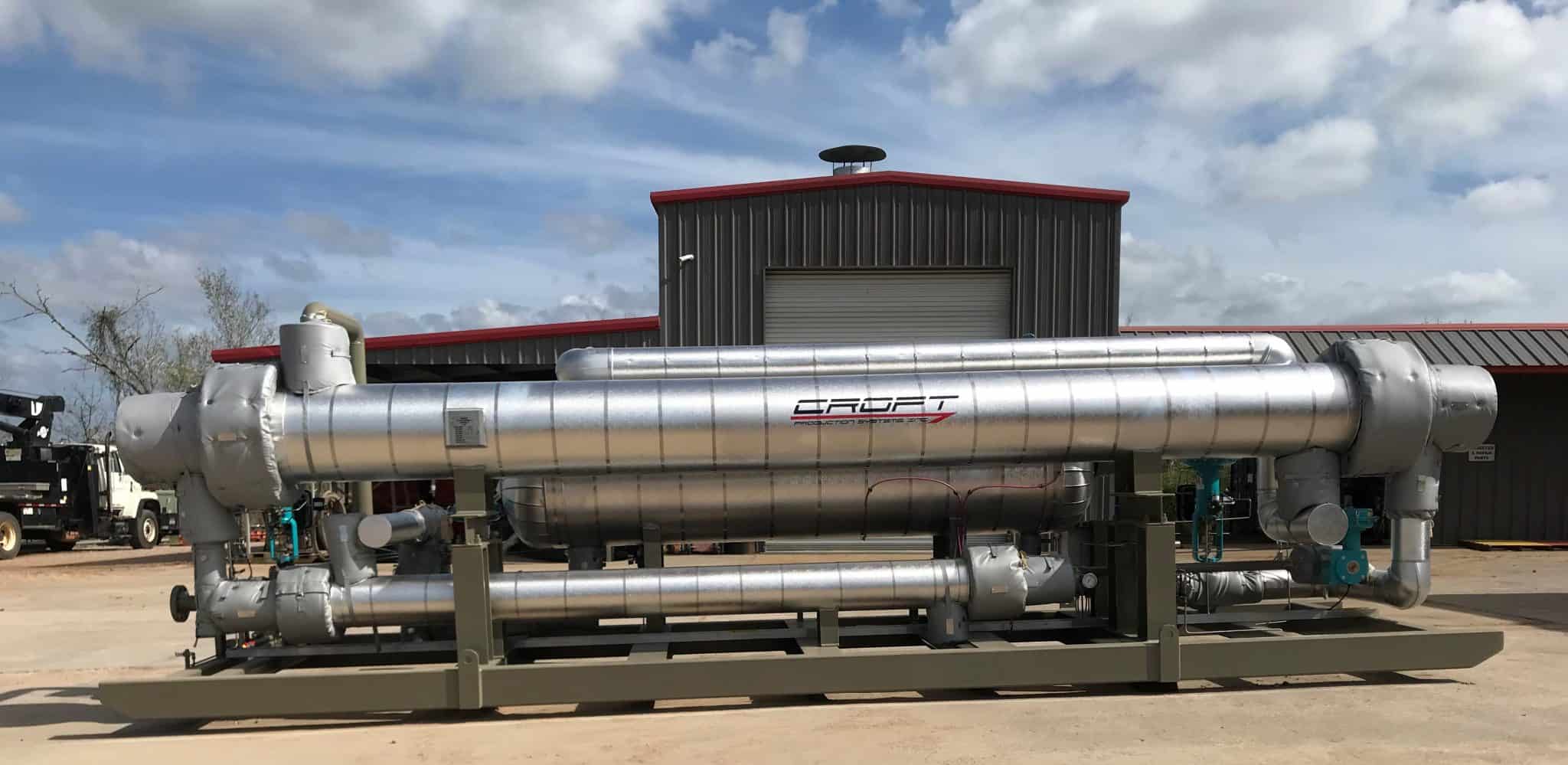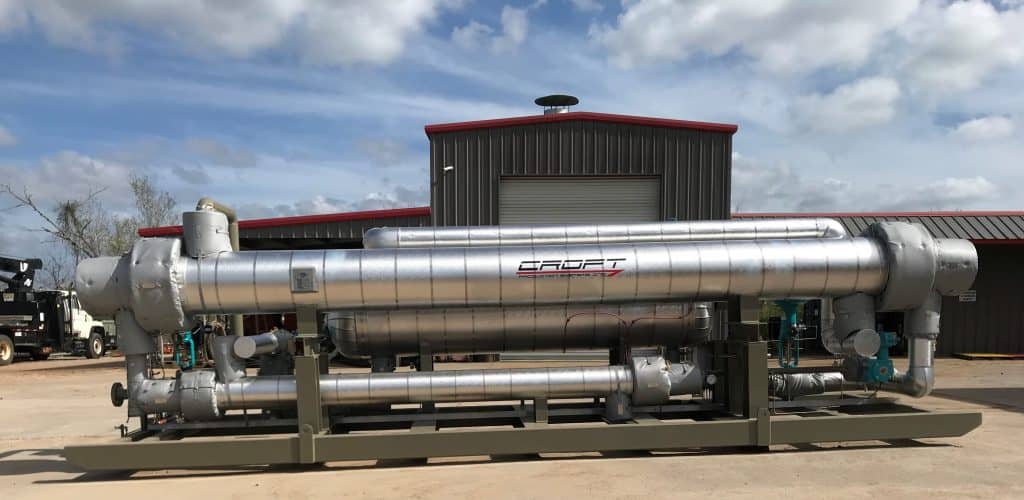 Joule Thomson Systems (JTS)- Our Joule Thomson Systems lowers the BTU (British Thermal Unit) of the gas stream to sales contract specifications or levels suited for high-speed engines. The JTS removes butane, pentanes, hexanes and other heavy components of natural gas that are unsuitable to fuel engines.
These systems are pre-assembled and delivered ready to be installed on location. Consolidated on a single skid, this space-saving system is installed by experienced CROFT personnel and serviced monthly to make sure that everything is running smoothly.
Which system is best for my operation?
Depending on your geographical location, as well as the volume, temperature, and pressure of your gas stream, Croft's team of engineers can build a proposal and recommend the equipment that will be most efficient in improving your gas quality.
To get started, request a quote on our website and include your gas analysis, as well as volume, temperature, and pressure. A sales representative will be in touch with you and get you started on the path to quality field gas for your drilling and fracturing operations.
Shop for replacement parts for your processing equipment.