PDS vs. TEG: Safety and Cost
Dehydrating natural gas, or the removal of water vapor from natural gas can be done by either adsorption or absorption. Croft's Passive Dehydration System uses adsorption, where water vapor is collected and condensed on the surface with the use of a solid desiccant. Solid desiccants have a high adsorption capacity, a low resistance to gas flow to minimize pressure drop, is both non-flammable and non-corrosive, and is inexpensive. TEG units dehydrate by absorption, which uses liquid desiccants such as glycol or methanol, to remove the water vapor. 
Although natural gas dehydration can be completed, either way, there are several safety issues incurred with the use of a TEG unit. Unlike the PDS, the TEG unit is a complex system with multiple moving parts, open flames, safety hazards, and toxic emissions. TEG's multiple moving parts and hazardous open flames require constant supervision and maintenance.
Here at Croft Production Systems, we explain the benefits of our Passive Dehydration System or PDS for companies on a daily basis. The unit is environmentally friendly. The PDS has zero toxic emissions so it requires no air permits. A company can get the units and start processing natural gas the same day if needed.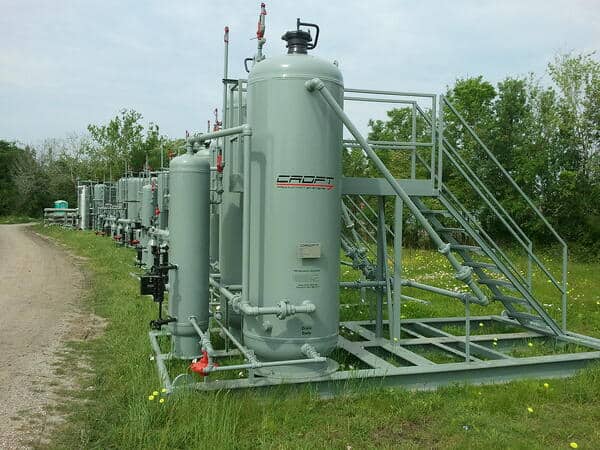 Safety hazards result from high gas velocities and poor mist eliminators which cause glycol carryover, excessive reboiler temperatures causing thermal decomposition and vaporization of glycol, and increasing temperatures which create salt deposits, while corrosion occurs when glycol reacts with sulfur. TEG units also emit several billion cubic feet of toxins annually. Emissions include hazardous air pollutants (HAP's), volatile organic compounds (VOC's) which are highly flammable, and BTEX which consists of benzene, toluene, ethyl benzene and xylenes, which are lethal carcinogens.
PDS units, the safe alternative to TEG units, have no moving parts or open flames, and almost no emissions. Due to the increased safety and unit's simplicity, minimal maintenance is required for the PDS unit. Unlike the TEG units, there are no permit requirements for the PDS unit while the regulations continue to get stricter for the use of TEG units. The countless hazards that come with the use of a TEG unit make PDS units a unanimous solution to safe natural gas dehydration.
Cost Concerns: Saving in the long run
CROFT has had some potential clients asking about the cost of our PDS. Their main concern tended to be the upfront capitol in getting the unit set up, stating that it was not justified to change.
Below are 3 case studies for TEG's that have been replaced with a CROFT Passive Dehydration System. The cost numbers that are with them only included money gained from reduction in gas losses. These clients saw even greater savings from not having to buy replacement parts or pay for repairs on the TEG's. Also with CROFT's service team handling maintenance these clients spend much less time in the field dealing with the ongoing issues TEG's have.
PDS Case Study #1
The first site is located south of Victoria Texas. The well parameters are an average of 125 MCFD, 600 PSI, 100*F. CROFT replaced an old oversize TEG with a single Model 20″ PDS. The unit rental fee and monthly enviroDRI cost equaled $750-$800 per month. The client saw an average increase of 25 MCFD after our unit was brought online to an average of 150 MCFD. That 25 MCFD increase at $3.00 per MCF creates a gross revenue increase of $2,280 more per month and subtracting our monthly cost at $800 it is a $1,480 increase.
PDS Case STUDY #2
The second is a sales point located south of Miranda City, Texas. Well site parameters are an average of 500 MCFD, 1050 PSI, 100*F. CROFT replaced an old TEG with a dual vessel PDS skid. Rent and monthly enviroDRI cost equaled $1,400-$1,500 per month. The client saw an increase of 30-40 MCFD after our PDS was brought online. At 30 MCFD increase at $3.00 per MCF a gross revenue increase of $2,736 more per month and subtracting our monthly cost of $1,500, it is a $1,236 increase.
PDS CASE STUDY #3
The third well site is located in south Texas. This Unit had a glycol dehydrator and after the first five months of production, the volume had declined to about 10-15 MCFD. The wellhead pressure would decline below the acceptable minimum and the well would be shut in for a few days and then brought on for a few days. It was determined that the glycol unit was consuming a large amount of gas and the decision was made to swap the unit for a Croft PDS. The PDS was brought online in January and stabilized production at a consistent 10-15 MCFD higher average. In the chart below you can see that production was flat and the well no longer needed to be shut-in to build pressure. Our Croft PDS unit greatly reduced the amount of client time on location and at a 10 MCFD increase and $3.00 per MCF our client saw a gross revenue increase of over $900 and subtracting our monthly cost at around $500 it is a $400 increase.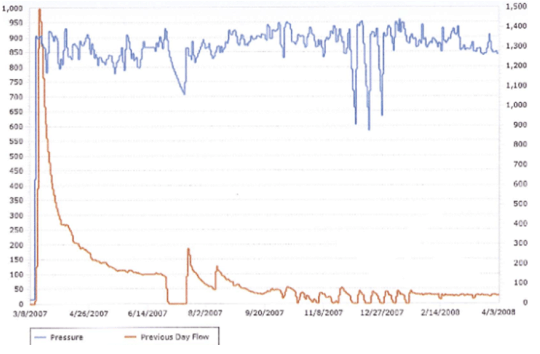 Learn more about Croft Production Systems Passive Dehydration Systems or check our information video below for a better understanding of PDS operations.
*Updated May 2020 by CROFT Representative