Acid Gas is a type of natural gas that contains significant quantities of hydrogen sulfide (H2S), carbon dioxide (CO2), or similar acidic gasses. In the industry people may refer to this gas as "Sour", and usually, sour gas is any gas that contains hydrogen sulfide in large amounts. CO2 and H2S removal from natural gas is a critical step in processing natural gas as it affects the safety of the processing equipment and more importantly, personnel.
How to Remove Acid/Sour Gas
Once the oil, water, and condensates have been removed, the carbon dioxide and hydrogen sulfide must be removed if present. This step is known as 'sweetening' the gas, due to sulfur's scent, otherwise known as "sour" gas. This step is very important because hydrogen sulfide is extremely harmful, even lethal, and very corrosive.
Amine gas treating refers to the process of removing H2S and CO2 (hydrogen sulfide and carbon dioxide) from natural gas. Carbon dioxide and hydrogen sulfide are often found in natural gas streams. Carbon dioxide, when combined with water, will create carbonic acid which is corrosive. H2S is an extremely toxic gas that is very corrosive to equipment and must be removed.
Required preventative measures are put in place by OSHA, Occupational Safety and Health Administration, and NSC, National Safety Council, while regulations and product specifications are made by NACE International, National Agency of Corrosion Engineers, to prevent its effects.
Gas Sweetening System
Croft's GSS, Gas Sweetening System, also known as an Amine Plant, removes both CO2 and H2S. This is done by first removing all H2S, followed by the removal of CO2 up to the Amine System's ability. If any CO2 remains, it will be removed during the next cycle. The Amine System can also be used to remove high levels of H2S. If CO2 removal is not needed, then utilizing Croft's CIS, Chemical Injection System, will remove H2S by means of injecting H2S scavenger into the system.
Chemical Injection System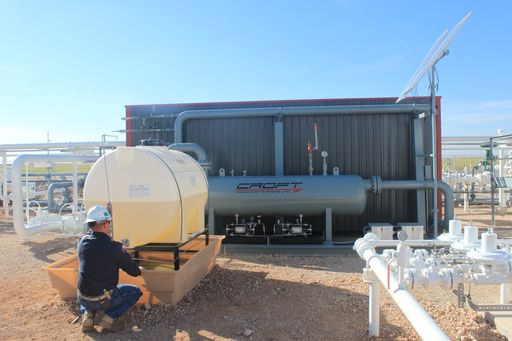 The Chemical Injection System is a safe and effective alternative to amine plants without the need for permits or the large capital investment, operating without emissions and fired vessels. CROFT's highly concentrated scavenger removes H2S while decreasing the number of gallons required. Due to the request of our clients, CROFT's Chemical Injection System can now be used to solve the following:
H2S
High Salt Content
Corrosion
Hydrates
Scale
Paraffin
Foaming
Regardless of its use, the Chemical Injection System is ASME coded and uses TXAM solar injection pumps to eliminate emissions and maximize reliability. For H2S Removal, the Chemical Injection System is also NACE compliant.
*Updated May 2020 by a CROFT Representative