Cameron Croft:
All right. So welcome everybody to our webinar. This is reducing glycol dehydrator emissions. So this is part of our saving money in oil and gas operations. So today it is a virtual roundtable. So if you've got questions, please be a part of it to stay in the know. So if something goes wrong, internet access, someone walks in, your kid walks in, we will be uploading this to our website with the transcript, so you can do it easily controlled search find, and it's going to be on our YouTube channel. So do try to find it there. So my name is Cameron Croft. I'm the CEO of Croft Production Systems. I got my Director of Engineering joining us today, Chris Smithson. He's been with Croft Production Systems for 10 years, and usually gets credit and a lot of the blame if something goes wrong at Croft.
Cameron Croft:
We also got Terry Nelson. He's our subject matter expert today. He runs the PEQ division of WPI, and he's got decades worth of experience that he's going to be sharing with us today, especially on a proper operational efficiency of a TEG in emissions control. So today's outline, this is an expansion of our last webinar that Terry was actually a part of, but we really wanted to focus on the methane losses, especially with the Biden administration joining the Paris Accord, the EPA ramping up. So this is a subject that a lot of our viewers actually are wanting us to touch a little bit more base on to get within compliance. So the topic highlights are methane losses, proper glycol maintenance, which contributes to emissions. And then also the emission controls.
Cameron Croft:
So today the roundtable structure, if you joined us in the past, you know what to do. If you want to talk live, I can unmute you, let you go. Most people actually will just chat. So you can put it in the Q and A section of Zoom if you're used to it or in the chat function. But we like to answer as many questions as you have specifically if you're working on a project right now. So just let me know on that. And then I'm going to bother Chris and Terry to make sure that this gets answered for you. So today what we're focusing on specifically is the TEG emissions. So that's focusing on the water vapor, removing a water vapor within the system.
Optimizing Glycol Circulation Rates

Cameron Croft:
All Right. So the first one that we got, this is kind of the introduction of what's going on. We did some research on how the EPA, TCQ is functioning, what are emissions. So you've got methane emissions, which everyone's focusing on pretty strong right now. That's actually a huge bullet point on the Paris Accord. And then there's also other, not just methane, but VOCs, volatile organic compounds, hazardous air pollutants, HAPS. So based on our research, and this was an old case study in 2007, so 13 years old now, but they were talking about 17 BCF of emissions by dehydrators and pumps. So it wasn't just dehydration pumps. And that's where it kind of the gray area was. So we started looking at, if they're talking about 10% of the emissions and the processing is from dehydration and pumps, that's why we're wanting to touch base with it today.
Cameron Croft:
So we started looking up. Now, they claimed over 38,000 registered dehys. I don't think that's right, because a lot of these smaller locations, they don't have to register their dehys. But this is what they're looking for. So we were kind of wanting to set a baseline of why are they looking at dehydration as a huge emitter? So to touch base on that, we wanted to go over the methane recovery. These are the EPAs and a few other peoples big bullet points. And this is why we're wanting to cover today is optimizing glycol circulation rates, burner optimization, flash tank separator installation or rerouting of the flash tank, electric pump installation, zero-emission dehydrator or what they're calling more zero-emission dehydrator, replacing the glycol with a desiccant dehydrator, but then there's going to be some other opportunities that we're wanting to discuss today. So to kick it off for Terry and Chris, what our big focus is optimizing glycol circulation rate. So Terry, you want to kick us off with what do we mean by that?
Terry Nelson:
Sure. And everybody welcome to the webinar. Appreciate the attendance. I like to see this many people interested in something that I'm passionate about. And when we talk about circulation rates, glycol dehydration is a simple mathematic equation based on the purity of glycol and how much you're going to circulate. We want our glycol purity to stay as high as possible so we can circulate less of it. When you have a system that is designed and sized from your manufacturer, whether that's Croft or any number of others, on an engineering side, they're sizing that with 99% triethylene glycol, which is not hard to achieve with the proper conditions. Now at 99% pure TEG, triethylene glycol, then you're talking about approximately three gallons of glycol circulation required to remove one pound from the gas string, one pound of water vapor.
Terry Nelson:
So, when that purity starts to drop and you can see it in the side glass, when it starts changing colors, if you can't see through your side glass on that read water, you don't have anywhere near 99% pure glycol. That means there's hydrocarbons, there's water content, there's suspended solids, chlorides, things like that are contaminating. Just down to 97% purity, you're already having to circulate five gallons of glycol through a pound of water. So you can kind of see where when you've got a system that's processing a hundred million cubic feet of gas a day, you're circulating a lot of glycol. So, the whole idea is to keep the purity up and keep the circulation down. Think about it, when the more you circulate your more aware in tear on your pumps, more filter usage, more fuel gas usage. So all those things are tying into what I call a cost of production.
Terry Nelson:
So I know that we're talking about emissions and that's critical. A Kimray pump will produce between three and five cubic feet of waste gas for every gallon of glycol you're circulating. That's what builds up the pressure in your pump gas separator. When you hear that relief valve or that backpressure valve venting off either it's going sometimes to VRU, sometimes to a tank battery into the VRU, or sometimes it's just going to the atmosphere. Every time that pump strokes, it increases the pressure in that pump gas separator and has to be released through the back pressure. So the more you're running that pump, the more gas you're feeding the system. And you're also increasing the load on a BTEX in the downstream. So we want to circulate less. So we use less fuel, which means less stack emissions or knocks.
Terry Nelson:
And we create less waste gas off that pump. A tech or electric pump is the standard one and a half to three cubic feet an hour of waste gas creation. Because when you have electric pumps, you have a level of control and a dump valve moving the glycol back through the system. So you'll have some flash off of that glycol, but it's pretty steady. A Kimray pump is all over the place. And it depends on how good your filters are and how small the micron is and how often you're changing them. Are the [inaudible 00:09:00] and the pump intact? We've all heard it, of a pump hitting and hammering making some noise. The only lubrication in that Kimray pump is the black coal moving through it. And when we burn an O-ring or burn a flat spot, now our waste gas is shooting up.
Cameron Croft:
What we saw was, especially on the unconventional like the shell, I mean, you got that 70% decline in the first year. So a lot of these people set the pumps, it works. If it's dehydrating, it's doing its job and then they walk away. But within two to three months it's over circulating now because you've got that volume decline. I know on a conventional well side you all can talk a little bit, but I mean, how do you advise your clients? Every quarter year you check just to see where the volumes are, or what's your advice on that?
Terry Nelson:
Well, we do monthly glycol checks on dehys for customers. A lot of people have found the value in doing that. And we have a 21 point checklist that we check everything from fuel gas pressure, inlet pressure, and temperature to the dehy, because just like you're saying, when you have a drop off, in a wintertime and overnight we have cooler temperatures. So we have less waterfall out than we do it at 2:30 in the afternoon of July the 14th, when it's so hot outside. And our gas temperature is effective by ambient. So, there's a lot of variables to the water load coming into that system. So we like to do a monthly check, operators can do this too. It's just a little checklist you go through making sure that filters have been changed. What are the pump strokes?
Terry Nelson:
Look at your Kimray chart. The strokes per minute will tell you how much glycol that pump is moving. You check your dewpoint with a Drager tube if you don't have a moisture analyzer. You pull that Drager tube, you got a contract of seven pound dewpoint to get in the pipeline. I don't want you to have two pound dewpoint because now you're giving money away. I want you to get down to four or five pound dewpoint so you have a cushion, but I don't want you to go too low because then you're giving money away and you're creating a lot more emissions and you're defeating the purpose.
Terry Nelson:
You're costing yourself more money. So I say, an operator can check it himself, or you pay a service company to come out, it doesn't cost too much, to spend a few minutes doing a check on the dehy than making referrals as to what they think you to do to make that system operate as designed. All of those things are going to affect the efficiency.
Cameron Croft:
Where's the output of a... if it's over circulating, got the emissions. Again, where are you going to see the emissions come from?
Chris Smithson:
The main thing you're going to see us on the flash separator, because the harder you pump it, the more of that flash gas, like Terry was talking about, it's going to be coming off of that flash separator. But also like Terry was saying, there's a range of how much gas comes off of that pump. That's depending on your operating pressure. So if you're operating at 1200 PSI on your tower, which is great, high pressure is always going to help things out, you're going to see higher gas losses through that pump. Even if it's operating perfectly, then you would have to say operating 500 PSI, just because you're getting more entrainment in the glycol with that. So the flash gas is going to be some of it. Some of them reroute, some of that for fuel gas.
Chris Smithson:
You'll never burn all of it. So you do still have an emissions problem there. And the other main thing is the steel column vapors that are going to be coming off. The more you circulate, the more you're going to be picking up the BTEX components, your benzine, triethylene. So more of that's going to be coming out of your steel column as well. So over circulating can definitely... there's a great argument strictly on just wear and tear on the unit to really optimize for circulation. But if you can reduce your output of those toxic things, [inaudible 00:13:26] BTEX, less risk of that having some problems. So it really is optimizing that to reduce what's coming out that to reduce its steel column can be really good.
Chris Smithson:
And also like Terry was talking about temperatures, 20-degree temperature change will double or half your amount of water content on average. So 100 degrees versus 80 degrees is twice the amount of water in that gas that you have to remove. So if it's wintertime, you can cut your pump rate in half that you were doing in the summertime and still meet your outlet water content that you need to... So like Terry was saying your monthly, it's not much to either do the quick calcs and see what you need to be circulating at, or just turn your pump down and check it the next day and see if you're still good where you need to be.
Terry Nelson:
The main thing is just to pay attention to the system. Don't just put it in service and then expect it to stay that way by itself forever. I mean, you're going to have to make adjustments through time.
Optimizing Glycol Burners
Cameron Croft:
All right. So the next one was the burner optimization. So yeah, Terry, if you don't mind, can you lead that one also?
Terry Nelson:
This is my pet peeve guys. Every burner system out there, none of the burners come pre-set. We have to set them as operators. Even if the manufacturer's function test them, run some gas through them and set your AFR, your air-fuel ratio, you're still going to have to adjust it when it gets to the side because of the bumping around and the banging it takes getting there. But when you get that system, I tell everybody to close your main fuel nozzle, which is that needle in the center of the burn.
Terry Nelson:
That needle screws in and out, it's tapered on the end, which determines how much gas or how much fuel the burning gets. Then you have your primary air shutter, which determines how much air is sucked into the burning. So what we're looking for is a nice blue frame with yellow specks on the end. And we want to close both of those fuels and air all the way off, then back them out about one and a half to two turns, lock them down, set your burner pressure between eight and 14 pounds of burner pressure depending on the size of the system, and then watch your flame and see how the flame is burning.
Terry Nelson:
So many times the fuel is pinched off so close that they have to increase burner pressure just to get a good flame. And then that's why you see burners have 18 or 20 pounds of burner pressure, and that flame was just going all the way down the fire tube. The BTU of that system is based on cubic feet of fire tubes space, and flux rate, and different things. But if you got too much burner pressure and you're pushing the flame too far down the fire tube, you're getting very valuable BTUs. So what we want is we want a good air-fuel ratio, stock, and metrics, if you want to get into the technical part of it. But that just means you've got the proper amount of air with the proper amount of fuel. So, it's just like anything else. I know most all field guys are also gear heads.
Terry Nelson:
We want to shove that air into that system and that engine to get it supercharged. So the burner is the same thing, it's a natural draft. The heat is going to pull air in from the backside through that flame arrester. Now, if that flame arrester gets dirty, it's not going to allow the proper amount of air to get pulled into the burn. So a couple of times a year, I like guys to... when you have some downtime maybe you're working on a compressor, or maybe you've got a dehy coming-out going on or whatever, if you're shut down, you should have a list of eight or 10 items that are on the maintenance checklist.
Terry Nelson:
This is critical. These are things that you can't check when it's in service for safety or process reasons. So every operator should have eight or 10 things, "Okay. I'm down for the day. Where's that checklist? I want to check these items now." One of them is the flame arrester, let's do a burn efficiency test. Take that flame arrester out, wash it out with water, blow it out with air. You will be shocked at the amount of sand that you wash out of that burner flame arrester. It sucks an air 24/7.
How does the quality of the gas supply affect the burner settings?
Terry Nelson:
Oh yeah. I've had some gasses, some of them at New Mexico high BTU gas which is hard to burn. And you've got to play with burner pressure. I've had to linked in stacks to get a better draft. You have to have the right amount of air-fuel. So if you've got a high BTU or just a very poor fuel source, which is the gas you're [inaudible 00:19:17], you're going to have to play with air-fuel to get that right. I've had two linked in stacks on burner systems to get more drafts. I've had dehys that are set down in valleys where the windblown across that stack would cause a downdraft and that downdraft wouldn't let the gas draft up the stack.
Terry Nelson:
So we had to put wind diverters on top of them to keep the downdraft from causing the problem. Some areas are windier than others. You have a poor BTU of supply gas, you're going to have to get creative with the air mixture and pressure to get that right. So that's where understanding how that air-fuel ratio works and adjusting that fuel needle with the pressure to get the proper amount of draft off the end of that burn. And yeah, I have to apologize because sometimes I'll ramble on about this guys.
Cameron Croft:
Well, what I was just thinking when you were going through it and extending the draft and everything. I was just thinking of, you would be really good at Cajun Cook-Off or something,  understanding burners and stuff.
Terry Nelson:
Oh yeah. Well, you got to remember, I come from a moon shining background, so...
Electronic Controllers for BMS Systems
Chris Smithson:
So one of the questions that we had that was sent in earlier was talking about they don't, they're looking at future-proofing for emissions and they were asking about electronic controllers for BMS systems, burner management systems, things that going electronically ignite the systems, and what kind of benefits that you can get from that, from your fuel usage. And like Terry was talking about, I think this is a good lead into that.
Chris Smithson:
The downdraft other than affecting your burn ability and your flow through the fire tube and also knock out a pilot light, if it hits, get a big gust of wind and it smacks the top of that stack and all of a sudden you get a backdrop just blows the pilot out. I think that's one of the big benefits of BMS systems that they don't talk about from a fuel saving standpoint is, unless you have a pilot guard like a Kimray, what was that? TA team pilot guard or whatever that is which nobody puts onto their fire tubes.
Chris Smithson:
You're not going to know that pilot light goes out unless you walk up and see that your temperatures down to a hundred degrees. So the ability of those BMS systems to relight themselves can save you a decent amount of fuel gas and 1.5 million burner on a glycol unit it's burning like 40 MCF a day. If it's at a tire and max eight hours of that being off where you want to know that your pilot's burned out and the unit's not relighting, then that's a decent amount of gas that you've just lost your fuel system.
Chris Smithson:
And it's going to be wide open because it's not making any heat. So the system doesn't know, we're just going to keep sending gas burn or trying to create more heat. And so I think that's a real big benefit of those BMS systems. Plus you just hit on and it lights itself. There's no risk. And the safety factor is huge to be able to have those things compared to the the manual way to light those-
Cameron Croft:
I mean, a burning rag on a clothesline?
Terry Nelson:
I just had a guy the other day send me some pictures of his fire tubes and there so set it up from, or fuel source and not enough air to fuel ratio. And what happened was he was losing draft down this fire tube and up the stack. A burner will always find air. A flame is going to search for air. If a burner is here and it's trying to get air from the natural draft, if it can't get it that way, it's going to come back the other way. And the burner is going to reverse flow. And that's what happens when you have the ignition wires get all burned down or the flame arrestor gets melted down. A few years ago, there was an operator for a particular company that was walking up to his dehy. And he started to, like we all do just lean up against the climber, but the other guy with him stopped him because he could feel the heat coming off that flame arrestor.
Terry Nelson:
And if you can't burn down the fire tube, it will become stagnant and burn backwards to where the air is coming from and you get the air from behind it. And that's when the flame arrestor gets really hot. And I've seen it where it would just glow red at night time to the point where it will melt at about 800 degrees. So that's something we have to understand that the importance it's not just efficiency, it's also safety. You don't want that flame arrestor getting hot to the touch. You should always be able to touch the aluminum flames.
Have you ever needed to use a force to draft the burner?
Cameron Croft:
We actually have a question on that. Have you ever needed to use a force to draft the burner?
Terry Nelson:
When I was at Exterran, we installed 14 stabilizer systems on one location and each stabilizer was good for about 6,000 barrels of condensate a day. So there were 2 million burners on these things, and they're all in such a small area. They're all natural draft and they worked good until we started turning them all on and because of all the radiant heat, the air was so poor that the burners wouldn't even burn. So the air was so stagnant with radiating heat, that we couldn't get good air drafting to the burners. So we ended up going back and retrofitting those systems with four straps, just so we could pull air and make those systems burn. One of the things that recently I've been working on is, when you have a burner on the picture there, and you have a BTEX unit, we feed that BTEX VOC the off vapors back to that main burner a lot of times to burn. It is so critical that you have primary air, enough air pulling in because that VOC is nasty and that will foul up your burners and drop down the efficiency.
Terry Nelson:
So I've been working on a better fuel-air mixer for the main burner to introduce the VOC vapor into, something that's better designed to pull in more air. So it's really critical that we get as much air into that system as possible so that we can lean that mixture up, especially when you have a very rich BTU fuel.
Cameron Croft:
Right.
Terry Nelson:
So if you think about these burners, they haven't changed in 50 years. Just like the burning of nozzle, the burn or chip, that's very critical how that's designed, there's stick tight, there's all kinds of different burner chips you can install that help pull the air down the fire tube to get a better burn.
Flash Tank Separator Over Circulating Glycol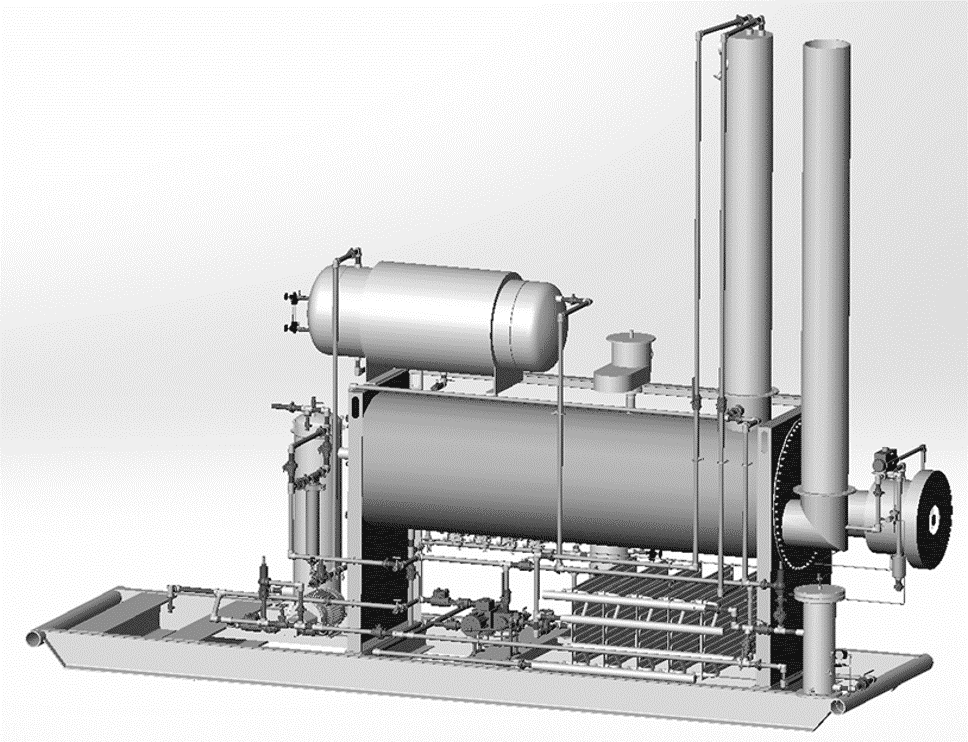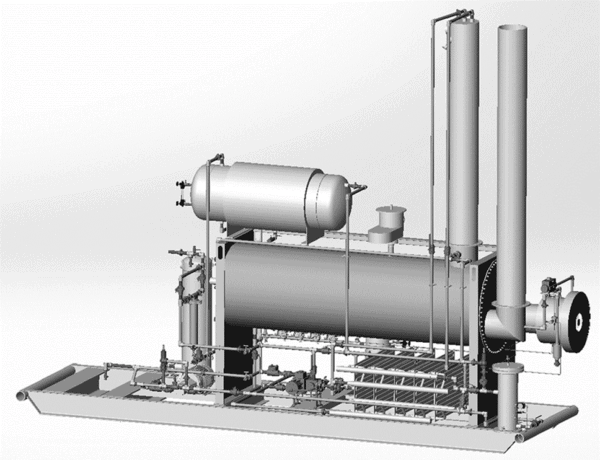 Cameron Croft:
You all were talking about the flash tank separator over circulating glycol. So Chris, do you mind leading the one on this one?
Chris Smithson:
Yeah. So this is something that's definitely become more of a standard feature on glycol units. I know if you have an older unit, you may not see this or some smaller ones. I think you can still option it out for some builders. But most glycol systems will have a flash tank separator on them nowadays. Reducing the emissions off of this unit is really going to, it's a function of your circulation rate. They're great to have, you can capture the gas that's on them. The standard Hanover style or Smith's style of glycol systems, they take that flash gas. They also route it to the fuel pot so that you can burn that while the burners on, it only uses it for fuel if the burners on. So depending on what your cycle time is, if you're at 50% on time, then you're only going to burn it 50% of the time.
Chris Smithson:
But it can also, depending on your circulation rate and the amount that you're actually burning you can have instances where you are over circulating and making more gas than you could even burn. So there are times certain applications where you're always going to making flash gas. And so routing that to someplace that they can handle that is a really good way to reduce those emissions. I know Terry, I'm sure you've seen a number of times, like on smaller units, they just have the backpressure, a regulator and it's just open to nothing. They don't even throw a rain stack on it. And that's just methane and it's just spewing out and on a bigger pump, I think a 450 running max is something like 30, 35 MCF a day that you can [inaudible 00:28:40] and just what's coming through with the pump on a good working pump.
Chris Smithson:
I mean then Terry I'm sure you've seen them lose a 100, 200 MCF a day through a pump that was just bleeding through. But yeah, I mean really, ideally the best option is that you run into low-pressure suction if you have compression. Because then it's all going to get recaptured. It's all going to keep going down your line vapor recovery, if you have it you at the vapor recovery, but running into some like a flare or a combustor so that it can actually be combusted and destroyed. If you can't capture it is the best way to reduce emissions from something like that. Because it can be an intermittent source. If you're trying to do audits where you're guidance with flare cameras or something checking it out. I mean, you look fine most of the time then all of a sudden you have it looks like a huge release of methane coming out, just because the backpressure valve popped open. I mean, it would be very noticeable on an audit like that.
Terry Nelson:
And that is when the pump is running right. Then you mix it into the equation. Somebody not changing filters or maybe your level in your reboil are as low and you've lost, maybe you're foaming and the glycol is trapped up in the tower and it's not coming down as fast as you're putting it in. And your pump starts to cry stroking or losing its returns and starts pumping more gas than it is glycol. Remember that Kimray bump we all think it runs off of gas. It doesn't, it runs off of some black coal under the pressure of gas on your black coal return, your wet glycol coming back from the towers, always a glycol gas next. Chris was saying there's a lot of flash release when that glycol slows down and that flash gas separator or the flash tank.
Terry Nelson:
But when you start losing returns and you start foaming, then that's when that pump starts making a little noise, a little tinging, a little pinging and now you've got straight gas sometimes going across and that's when you see the pump starting to freeze off and it starts icing up on the piping. That means that you're pumping gas and not [inaudible 00:30:57] when you have a 1000 pounds on a tower and 40 pounds on that flash tank, so you have 960 pounds pressure drop across the face of that pump.
Terry Nelson:
When you got 100-degree black coal going through there, that 900-pound pressure drop is not a problem. But when you start gassing off, now you start losing seven degrees for every 100 pounds of pressure drop. So now you might have a 100 degrees on your tower, and if you're going down on a 100 pound pressure drop across the face of that pump, you're losing 60 degrees easy. So it starts freezing off. And what Cameron was talking about hydrates, and you're going to freeze off that system, you're going to damage it. And you're going to put a lot of gas down story.
Chris Smithson:
One of my favorite options, when we have a BMS system on the unit, is to add... well, you can do it either way. You can do it mechanically, but a low-level switch on the search section of the re-boiler that closes off the outlet of the Kimray pump, that way if you do lose glycol, you don't dry stroke. Because once you lose glycol on one side, it'll speed up. And then he started losing on the other side and then gas will start shooting through.
Terry Nelson:
Well, I was telling somebody the other day, if you can reduce your pump strokes and that kind of goes back to where we started. If you can reduce pump strokes before or five strokes a minute, you're saving three or 400 cubic feet of waste gas production. And you're saying 50 to 60 cubic feet of burn the fuel. Now just on a few pump strokes. So there's something you always have to look at.
Chris Smithson:
Yeah, because your burner fuel is directly related to your circulation rate. It's trying to heat up the glycol. If I never had a glycol, didn't have to go anywhere. It would hardly use any fuel.
Terry Nelson:
That's right.
Cameron Croft:
The flash tank separator. So I guess, where's that primary area you had to reroute that to? You said back to the low-pressure side of suction.
Chris Smithson:
Yeah. Low-pressure suction if you have it. If you have a low-pressure place where that gas is going, low-pressure compressor suction means it's going to go right into the back end of the system. Vapor recovery is less common thing to have or destroy it. If you can it's a flare or a combustor. I mean you can set a separate combustor just for that gas, if you need to.
Terry Nelson:
We actually have a BTEX unit that includes flash gas recovery. So in other words, it has a system on it that gathers the flash gas and separates from the BTEX. And you can either burn it in a combustor, or like Chris said, you can put it through a low pressure separator, recover it downstream recompress it, put it back in the system. We're trying to all this whole emission talk. If you took a drive a year or two ago from here in Corpus Christi, out to West Texas, when you get a bound a certain point, you started seeing a lot of flares burning. And that's something that personally I haven't seen in 30 or 35 years, the amount of flares that we had at one-time burning. You're going to start seeing those disappearing real quick under the Paris Climate Accord. You're not going to be able to have a lot of flares burning. You're going to have to get much more creative with what you do with your methane emissions and waste gas emissions.
What type of pilot do you recommend for the glycol release back to the system's snapper throttle?
Cameron Croft:
We actually had a question come out and said, what type of pilot do you recommend for the glycol release back to the system snapper throttle?
Terry Nelson:
Throttle for me, I'll throw that out there. I mean, that's the only place I really... anytime when you have a three-phase vessel, the loaner dunk connection should always be throttled because lack on a dehy system, if you have a snap pilot on that level of control in your batch dumping glycol into the re-boiler, and you're going to cure your temperature. If you have throttle with the throttle in a seat, now you're going to crack that open just enough to maintain the level. So you'll have a steady flow of glycol going back into the reboil. Remember that glycol goes into the steel column when it leaves the flash separator. So it dumps right on the hottest part of your fire to right and under your steel column. And if you batch through that with the snap open and closed out Val, you're going to make your burner work harder to keep that temperature, which means more burning fuel, more NOx emissions. So if you have a steady throttle, then you'll have an easier time for the burning to keep up.
Chris Smithson:
Yeah, that's a really good point. Because if depending on how you have that snap set. I mean, you can have a quite a lot dump out, especially on the bigger units that has the larger separators. You'd have quite a lot of dump into that re-boiler I mean, you think you dump a foot of glycol out of a 36-inch separator into a 42-inch re-boiler on like a 1.5 million. I mean, that's a good sixth of the glycol that's in that re-boiler are just now entered in there. So I mean that if that starts making it to the search suction before you've properly reboiled everything, then you're going to have a glycol purity issues as well. And it's a lot more stable with a throttle system. It's like Terry said a three-phase separator. You should just do a throttle on the lower stage. Do you want to keep your levels level? And snap is just going to move your levels around too much and cause you problems.
Can you use gas from the flash tank to fuel the reboiler?
Cameron Croft:
We had one more question pop up. It says, I've been told that gas coming from the flash tank should not be used as fuel to the re-boiler or however I've seen some times that gas from the flash tank is mixed with dry gas, fuel gas should be totally dry or can be a mix dry gas coming from the flash tank? So what do you all say on that?
Terry Nelson:
It's smart. Pretty smart question. Especially in the winter time. Personally, I tell my operators that if you've got the wet gas from the flash tank, going into your fuel gas rubber, you're going to have issues in the burner with liquid fall out moisture. You're going to have issues that little pilot orifice in your pilot is like 130 seconds of an inch. It's a tiny little hole. And I mean, we have big enough problems with our dry gas supply being clean but that's why I'm a big proponent of Y-strainer in the fuel system ahead of a burn.
Terry Nelson:
But [inaudible 00:37:55] usually get our pilot gas before that Y-strainer. So we have to think about that because I've seen fuel gas freeze off in the winter time because the gas coming off the flash gas separator is not dehydrating gas, that's what I guess. So it can freeze cause there's moisture content and cold ambient conditions. Not more time, in South Texas or West Texas, it's not that big a deal, but we don't mix dry and wet in that fuel scrubber. If you'll notice you got a line coming in the side of the vessel, that's your wet gas off with flash. We have a line going across the top of that vessel. That's your dry gas supply, the dry gas supply pressure with the back pressure valve, is always set a few pounds lower than the pressure we have on the flash tank.
Terry Nelson:
Higher pressure wins. We use flash gas as the primary fuel. Then we have a backup of dry gas if our flash drops below that point, but dry gas also serves as makeup gas to the flash. So, if you got your pressure set where you'll always use the flash gas first, and then if you don't want to use the flash gas, there's a ball valve there, you can close it. And you're using all dry gas. Understand when you do that, you're increasing your waste gas by whatever was coming to that burner. That's the operator's choice.
Switching to Electric Pumps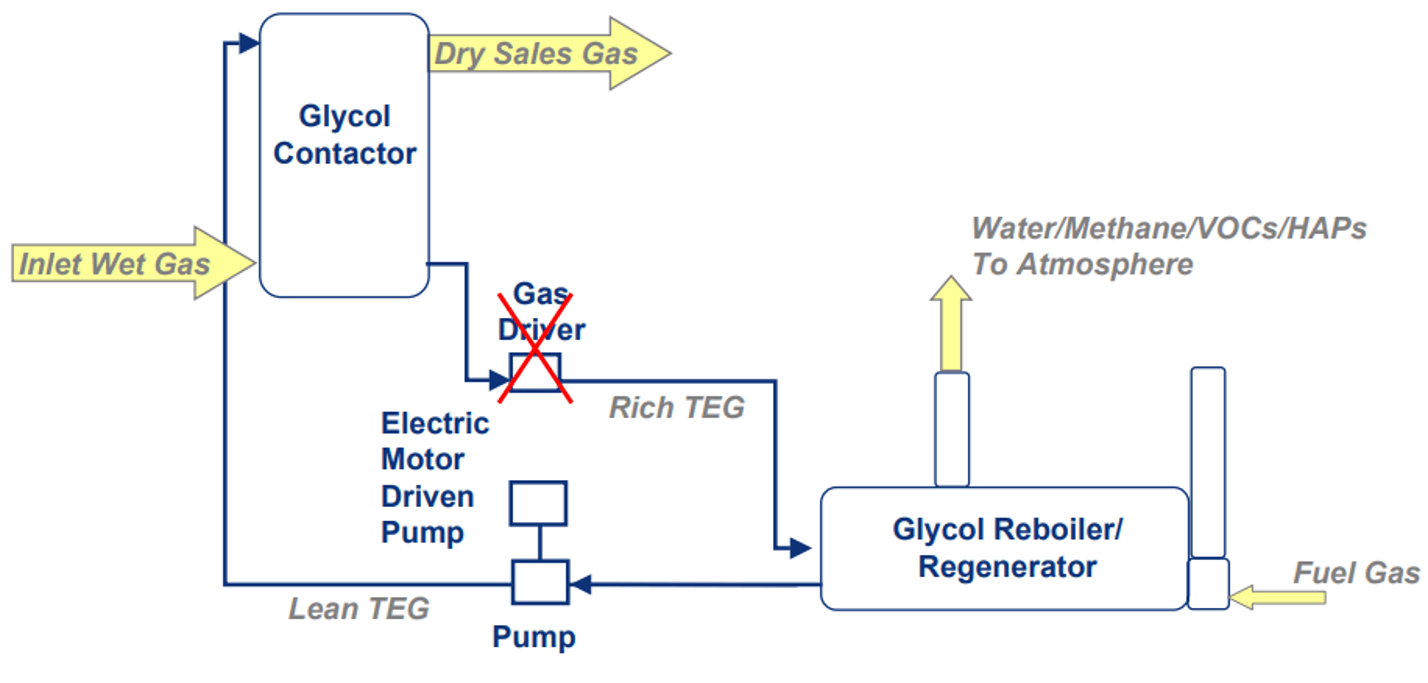 So one of the other things that the EPA was talking about was the electric pump replacement. And I know that's not always going to be out there. That's not always a viable solution, but can you all talk a little bit about this?
Chris Smithson:
I mean, there is gas savings due to using of an electric pump over a Kimray. But you still do have gas entrainment in the glycol. So if you were to watch the glycol get depressurized, the way you'd see it come out is like carbonation in soda. There's a gas that just gets entrained in that glycol that is going to come out on the other end. I mean, if you think of the way the Kimray pump works, you purge it, you purge the lines to get the air gas out of them so that you get the glycol all the way through your lines.
Chris Smithson:
You don't want that gas in there. So, I mean a lot of that glycol or the gas that's giving you that extra motive force for the Kimray is entrained gas. So you're not eliminating all of that just by going to an electric pump but you are reducing it. And you are reducing the instance where if you have an issue with the... you don't have an issue where you can actually dump a whole bunch of gas at the pump, the pump starts to wear out unless your level controller fails on your tower and you start dumping through there.
Terry Nelson:
Well, you have to also remember you may not have a Kimray pump, energy exchange, you're putting it in and you're getting it out with the same device so your energy exchange. If you eliminate that, then you go to the electrically driven pump. Now you have to have a level of control and a dump valve on the towel.
Chris Smithson:
Yeah, in the upper section of the tower.
Terry Nelson:
Right. You got to make sure you have the connections where a level control and a dump valve. You got your glycol return mine. You can use the same one that's coming back to your pump and just put a dump valve there. But you've got to have room for a sight glass and a level control. Sometimes you can find a couple of connections and install an external bridle assembly that would house a sight glass in the level control assembly.
Terry Nelson:
But you got to understand the internals of the tower. So you know where to set that level of control height wise so that you don't end up putting glycol in the bottom of the scrub or of the tower. So there's some engineering there. I always people don't do that on your own. Involve the manufacturer, get somebody to engineer where we need to put that external bridle assembly. Make sure you've got the dump valve trim right in that motor bow, and the most important thing you have to install a choke nipple after that dump valve. Because you got 1000 pounds of pressure going to 40 pound vessel, you don't want that dump valve trim cutting out or the level of control sticking out. Now you're just flowing 1000 pounds into a 40 pound vessel.
Terry Nelson:
So you have to install a choke nipple downstream of the dump valve on that tower. It's critical. I walked into a guy's office one time and he had these two-inch nipples sitting on his desk. I won't tell you the company he was with but it's a major company. And I said, "What are you doing with all those choke nipples? He said, "Oh, they came in the sensory boxes with a diode. I didn't know what to do with them." I said, we're going to make a trip to that location because you got several units out that are dangerous right now.
Cameron Croft:
That's the same thing I do when I pick up and I do IKEA. There's always that extra board and accessories that you don't need.
Terry Nelson:
Okay. You always got a couple of bolts left over.
Instrumentation Upgrades that Reduce Emissions
Cameron Croft:
All right. Well, the next one, this is a question that actually came in. They were talking of, want to discuss a little bit of the upgrades, zero bleeds some quick, things that from you all recommendation, some quick things that they could be doing right now, just to have a zero bleed like was it Norseal components on that. So do you all mind talking a little bit about that?
Chris Smithson:
So the quickest thing to get rid of the instrumentation emissions issue would be if you have instrument air, run instrument air over to it, you don't have to change any controllers. You can use the same devices. That'd be the easiest thing if you have instrument air. There's a cost argument to be made which is buying an air compressor versus going to some of the zero bleed devices, the electric devices but that's for your own cost-benefit. But the zero bleed devices are great for level controllers. I mean, I've been on number locations where you can share the level of the controller from across the pad, before dumps, just being the gas loss of the pilot. They can be a little more finicky though. Those zero bleed devices usually because they reroute gas somewhere or they have more tight tolerances on their internals.
Chris Smithson:
So they are something that you probably do need to keep a little bit more of an eye on if you're using those. But I mean, a typical glycol unit is going to have three level controllers. One in the tower, two in the glass. Then you have your, depending on your fuel train, how you've set that up. Either the Kimray T12 with a control valve or you'll have a BMS system. If you're running the Kimray T12 though with the typical way that those are instrumented in you can't run supply air or instrument air on those.
Chris Smithson:
Normally the pilot gas is teed off of that after your shutdown T12. So you can't just send air to that because then you'll lose your pilot gas and you'll just send air through your pilot and you won't have a burner anymore. So that one because you do have a little gas loss through that motor valve for that T12, and T12 do bleed a little bit as they reset themselves. Those are an intermittent bleed device. Really the only way to get rid of that would be to go to a BMS system and a BMS system that's using electric control valves instead of pneumatic control valves.
Terry Nelson:
One of the things I always throw my 2 cents in when someone talks about instrument air, do not feed a blowcase within instrument air. If you got a Jack go system or some sort of blow case, you don't feed that with instrument there. That's going to go to a giant battery VRU sitting out there and you're putting oxygen into the system. You're going to cause a major issue. I had an operator tell me, "We don't have VRU. I all goes to flare and it just goes to vent." That's today, five years from now, when the Paris Climate Accord, you have to put a VRU in. Is somebody going to remember that you're feeding that blowcase there? But always, that's a bad idea. Never charge a blowcase with instrument air. It just sticks in a vessel at a certain point and it completes a circuit if the level rises up and interrupts that, it functions a dump valve and it's electric and works really well.
Chris Smithson:
Yeah. And Kimray has like, you can get the electric dump valve and then it's just electric switch. And I mean, you can get a cheap electric switch from Norseal BMD, while marketing those guys and just wire that into that dump valve and that'll operate like a dump valve. They have a little electric dump valve, a low pressure one that you can use for a dump valve. There are other, the high pressure one that actually sits on top of the thing.
Terry Nelson:
I'm sure Clayton appreciates that. So we had a Kimray guy Bobby, and so I'm sure he appreciates that here.
Chris Smithson:
Oh, the Terry's comment about the blowcase. That's what I was trying to think of. Another real good reason not to use air on the blowcase. Most of your BTEX systems use their Jacko blowcase that they're carbon steel and are not lined. So air plus what's coming off your BTEX is water and oils and just throwing air in that. That's incredibly corrosive. So, you mean you're throwing oxygen into your drain lines, wherever that system's going to you're just going to wear all that stuff out a lot faster and then route it out pretty bad. Because it's hot, and it's water and air mixed together.
Terry Nelson:
There is a time now where I'd be happy to have a conversation with anybody. There are zero-emission BTEX systems now. That's a much better design, and a much better idea, and everything is new. And we actually have the capabilities now to hook a BTEX unit up to dehy and have zero emissions coming off.
Cameron Croft:
Well, that's what we're touching base next was actually the BTEX units. So I wanted to go over just quick, because we actually had a couple of clients talking about. They were just seeing ambient air. They didn't understand the other... So Chris, do you mind kind of just doing a quick run through of the differences?
Chris Smithson:
Yeah. And these are really these are regionally where you want to use these different kinds of BTEX systems. So an ambient air one is just basically a radiator. So it's going to have the fin tubes, that one's going to get you through most areas of Texas. And they can winterize them to an extent but you don't want to put these in an area where you're going to have subfreezing temperatures a lot of times. Because then you have the water that you're condensing through those tubes. So that can freeze up and I mean, a lot of these are built stainless, but you can still crack tubes if that water builds up in there and the ice expands. So those are great for South Texas, a lot of parts of Texas and maybe in Louisiana. But if you're getting into more freezing temperatures, a forced air unit and especially on bigger systems, a forced air unit is probably going to be the way you want to go, where it has an electric fan that's blowing through the heat exchanger, to cool down those BTEX gasses because they're temperature controlled.
Chris Smithson:
You have a lot less risk of freezing on that. And then these systems can be tied either to combustor or something else. And then the shell and tube systems are usually used up where you really need a winterize. And even ambient air is way too cold even with a fan. And those use the glycol. You tune your glycol on your unit, use your glycol to cool down your BTEX vapors. So you run your BTEX vapors through the tubes, and then you run your glycol through the shell, and it'll cool it down that way. And those are a lot easier to winterize and those can you use all the way up to Alaska and you'll be fine for being able to condense out those vapors and that they're nice. They're a little more expensive. But they are nice because they're solid units and that they operate. We have sent one up to Pennsylvania, not too long ago, and it operates really efficiently.
Terry Nelson:
Yeah. I mean, people don't realize that the blowcase itself it has to purge every time it fills up. So it's where BTEX vapor and BTEX liquid, and then it fills up, and then it has to purge the gas off once it empties. So it's blowing BTEX vapor into the atmosphere, and then you can't feel into a vacuum. So the blowcase has to evacuate as the liquid is filling it, so it has a bleeder mechanism on it to bleed off while it's filling up. So you're emitting benzene at ground level 24/7. There's a spiral X makes BTEX unit that has no blowcases on it. If you look at the standard BTEX unit, it goes in the bottom and goes up the tubes, and there's two or three plates in that header.
Terry Nelson:
And that's what causes the back pressure and the going into bypass and relief valves going on. The spiral X goes into the top of the header and uses gravity going down. So there's no build up of pressure. So to me it's a better design. It makes sense. People can put whatever they want to on location, but when we talk about emissions, I'm always talking about getting rid of the blowcase, because you could just install a tank there with the level of control in that double diaphragm pump, but you're still going to have the pump exhaust unless you use an instrument. So there's other ways you can do that and have less emissions off that thing.
Cameron Croft:
How much I'll reroute from a BTEX? That was one of the questions. Rerouting from BTEX. What would you do to try to lower the emissions if they aren't going BTEX unit out there?
Terry Nelson:
Well, to me, I'm putting a combustor personally. So that I get total distraction. Now, a lot of people put a fuel ring in it. In other words, they got your main burner. They put a mixer adapter there, and whatever doesn't get condensed to a Lakewood feeds into that burner. And you burn it in your main burner system. Personally, I have replaced way too many admission wires and stuff because the Jacko system has too much liquids after it's been cooled down and there's too much moisture still in that line.
Terry Nelson:
We installed drip lines and stuff just to catch it. And that's what burns up those ignition wires in the burner systems. And then when the burner shuts off, they go to that little glow plug devise in the stack. I don't have a problem with that, but under the current state codes that doesn't give you a proof of destruction. You have to be able to prove that that's actually burning in the stack. So how do you prove that? You can't. You have to install continual admission on that little plug or prove you're burning it in the stack and you can't.
Cameron Croft:
The little plugs are only hot when the burners on. And the only reason you're sending it to the glow plug is because the burner's not on. So how's the glow plug even warm enough to... yeah, we built one recently that has, we didn't put the glow plug thing in and the client was wondering like, "Hey, you don't have the little spring with the..." And it's like, "It doesn't do anything."
Cameron Croft:
When you're talking about rerouting it to the burner, you're back to the how often is your burner on? So, I mean most of those kinds of burners, you're only looking at a 50% on cycle. So you can only claim that you're combusting 50% of the BTEX gases. Assuming you're getting 100% combustion through which only an actual enclosed combustor can get you like 99.8 or five or whatever percent it is, even the burners, like what we're using in the glycol systems like that. That's not a super high efficiency burner that's put into those things. So, I mean when you reroute it back to the burner, there's a huge safety risk. And you're only really getting like 50% of the BTEX destroyed.
Terry Nelson:
And going forward, do Mexico's new administrative code. That's not near enough and they're not grandfathering anything in. That's the key they used to, they grandfather a man. So if you had a unit out there that was 10 years old and it's the same thing with the tubing shell units. All those systems, all put fuel rings and fed that stuff back to the burners going forward what the new rules are coming out with. You're going to have to rethink a lot of that.
Cameron Croft:
What I likely you said earlier Terry is how do you show proof of destruction? Because a lot of these operators, these companies, they have to show proof of intent. If anything, we're trying to meet these emissions codes, this is how we're rerouting it. We have zero bleeds out here, and then you've got that. I guess contingency plans that could fail, which emissions will occur? But I think if you showed a genuine compliance of proof of what you're trying to do, I think that's going to go-
Terry Nelson:
I had a customer in West Texas. He a dehy that had a max capacity of 170 million cubic feet of gas a day. But they were only doing 80 million through it because the BTEX system kept belching and shutting down. It couldn't handle that amount of water load going to it. So because it would kick in the bypass and all that. We made some changes and took and changed our BTEX system.
Terry Nelson:
Made some changes and they were able to go from that 80 to 140 million because they had the capacity that can handle the water load downstream. The dehy is important, but if you can't get rid of the water that is scoping off, then you're going to end up having so many bypasses and shutdowns. When a BTEX goes into bypass, it also puts a burning off reboot and it shuts everything in. You got to go out and restart it. So it's really important. Your run time is critical. So that's all going to be coming up in the next year or two. I guarantee it.
Can you recover and sell condensed BTEX?
Cameron Croft:
Well, we have one last question on this slide. Can you recover condense BTEX for sale?
Terry Nelson:
If you separate it you can.
Chris Smithson:
Yeah. You'd have to dry it. I mean, you could sell it as homemade paint thinner if you want it to. I mean, that's basically what it is. I wouldn't, I don't know.
Terry Nelson:
I've had customers that put it into a three-phase separator and dumped it off as a hydrocarbon. It will separate downstream because it's not a stable product it's going to flash.
Chris Smithson:
Yeah. If you put it in your oil tank it should mix with your oil enough to not really vaporize off your oil tank. Because I mean, benzenes like a C8, I think C9 hydrocarbon. So, I mean it's heavy enough it's as getting up there with gasoline and the other ones are near that. So I mean, it should make some with your oil and stay stable.
Terry Nelson:
The people that are buying your oil from you, will not be happy about.
Cameron Croft:
No.
Terry Nelson:
But you could definitely put it in the wall tank and get rid of it.
Chris Smithson:
I mean, it should mix with the oil because if you're only making maybe a couple of gallons a day.
Terry Nelson:
90% of what comes off, the steel column is water vapor and it contains BTEX and some, some VOC. That's what why have to remember when we see steam going off of steel column, most of it is water vapor. And that's why BTEX is so important. If you've got the proper amount of tubes and a properly designed system, you should get 97% of that vapor off the steel column to turn to a liquid and get rid of it. It's VOC that you can't
Chris Smithson:
Right.
Terry Nelson:
You would have to refrigerate it to get those to turn to a liquid.
Chris Smithson:
Yeah. Because I mean the most and all of a sudden, other thing about stripping gas, most, you want to minimize your stripping gas to the lowest amount you need. They sell a little gauge that you hardly ever see them on stripping gas setups, but it'll tell you how much you're putting in most BTEX systems have I think it's like a six cubic foot per minute. Talk to your manufacturer. But there's a restriction for how much stripping gas should be going into those systems because if you're pushing, they won't cool enough if you're pushing too much paper through there and it's not condensable. You either going to burn it or try to vapor recover it too, but yeah. Stripping gas can... because then if you're running a lot of stripping gas and that's a lot of emissions coming off of that, still call them that you need to deal with.
Emission Free Natural Gas Dehydrators

Terry Nelson:
Well, I'm kind of running out of time here. So the zero emission dehydrator, I guess that's the ultimate goal of what we're trying to do by combining a bunch of technologies coming together and rerouting you're never gonna fully achieve zero emission, I guess. What you were saying earlier, Chris is unless you've got a vapor recovery unit for any of the tolerances that are built into it.
Chris Smithson:
Yeah. You'd have to have an electric re-boiler, and a vapor recovery unit. And run instrument air on it to try to electrify everything. That's the only way to have a true zero emissions. Because even if you did the best you could with the greatest BTEX unit, greatest BTEX unit it's 99.9% destruction efficiencies. I still got that little point. But then you have all your methane losses through your burner. So you have a diesel or you have your CO2, whatever, the destruction efficiency, Terry, you'd probably know, but one of those like 90% efficient burners, 95% efficient burners.
Terry Nelson:
Well and somebody said something really intelligent earlier. They were talking about-
Cameron Croft:
Did I say it?
Terry Nelson:
I don't know. I think it was question. Something about what the fuel gas supply.
Cameron Croft:
That's right.
Terry Nelson:
It comes down to that. How efficiently can you burn something is 1300 BTU or depending on what we're dealing with and how well is your flame arrestor cleaned out? How efficient is your burner adjusted. All of those things play into it. Like you say, you can do your best but gaining when I said something earlier zero emission BTEX, and it's not a zero emission dehy. The zero emission dehy is much harder to get.
Cameron Croft:
That's right.
Terry Nelson:
You'd ever get it, unless you know a passive to United system where you don't have Kimray pumps, you don't have burn the fuel, you don't have the emissions that you'd have on the standard dehy system. I mean, you guys do the passive systems. What do you call that, the dry desiccant systems.
Cameron Croft:
Well, that's-
Chris Smithson:
Yeah, the electric is a big expense. Electric re-boiler that gets really expensive, really fast.
Cameron Croft:
Well, we're going to wrap this up. The one thing that we're seeing quite a bit like you were saying, Terry, is that we do Passive Dehydration Systems which are solid desiccant dehydrators. Right now, we're replacing a lot of the older glycol systems, especially are not going to meet compliance, meet code. And then because they required no air permit requirements, we're getting really big in the Northeast, New Mexico, Colorado. Just because there are no air permits, you don't have to worry about any of that.
Cameron Croft:
Yeah. Well, to wrap this thing up, because it's getting into everyone's lunchtime, so everyone's going to get upset. All right, so if you're interested in being a webinar speaker or know of someone that wouldn't be a good fit, please let us know. We'd like to ... Our marketer, Tori Valigura, she'll reach out to you, talk with you, try to get you to come on board. Now, if you are getting a survey, so we're a Six Sigma company, we love ISO but as the speakers, we like spending the time, but we want to make sure that our information is coming across properly. So please let us know that feedback, you'll get a free hat or shirt to you, but it will help us tailor it to this thing in the future.
Cameron Croft:
In the future, contact information, you can reach out to me on LinkedIn [email protected] All of that information will come to our organization so that way if you have a back end where you would like for us to do, more specifically with your clients or just you and your team in general, we'll set up conference calls. Terry has three to four of these webinars a week that he does, Jesse does his own webinars. So just let us know, we'd like to help you and assist you as much as possible. At this time I'd like to wrap it up. So Terry, Chris and Jesse, thank you all again for coming on board with us, and then, actually, joining us next month for our next webinar.
Terry Nelson:
My pleasure.
Cameron Croft:
All right, guys. Well, let's go get some lunch. So you all take care. Bye.