The Gas Sweetening System, GSS, also known as Amine gas treating, refers to the process of Removing H2S And CO2 (hydrogen sulfide and carbon dioxide) from natural gas. Carbon Dioxide and Hydrogen Sulfide are often found in natural gas streams. Any acid gas present in the gas stream is crucial to remove. CO2, when combined with water, will create carbonic acid which is corrosive. H2S is an extremely toxic gas to personnel that is also very corrosive to equipment and must be removed.
The Challenge:
A client at a gas gathering facility was processing gas for multiple wells before entering a sales pipeline. Over the years there was a decline in volume in some wells that had high amounts of CO2 and H2S. This put an oversized amine plant on the location that was barely effective in removing the acid gas because of the turndown rates and it was far from efficient. The plant could not properly turn down to the level the facility required which caused over circulation of the amine. When a plant over circulates, it requires more deionized water and amine refilling which is one of the largest expenses in continuous plant operation.
A second expense to focus on is the burning of fuel gas. This 60 GPM amine plan required a 4.5 MMbtu burner to operate efficiently but was not matched to the new parameters, so it required nine times more fuel burning than what a properly sized plant would operate at.
The last large expense to this plant was the wear and tear of the plant, specifically rebuilding the 60 GPM pumps estimated at 40K each. The client had a challenge of needing to still meet spec, but to treat with a more economical approach.
Parameters:
| | | |
| --- | --- | --- |
| Description | Current Parameters | Required Spec |
| Gas Volume | 3 MMcfd | |
| Gas Temperature | 95 F | |
| Gas Pressure | 850 PSI | |
| H2S (PPM) | 75 PPM | <10 PPM |
| CO2 % | 4.7% | <4 % |
---
The Solution: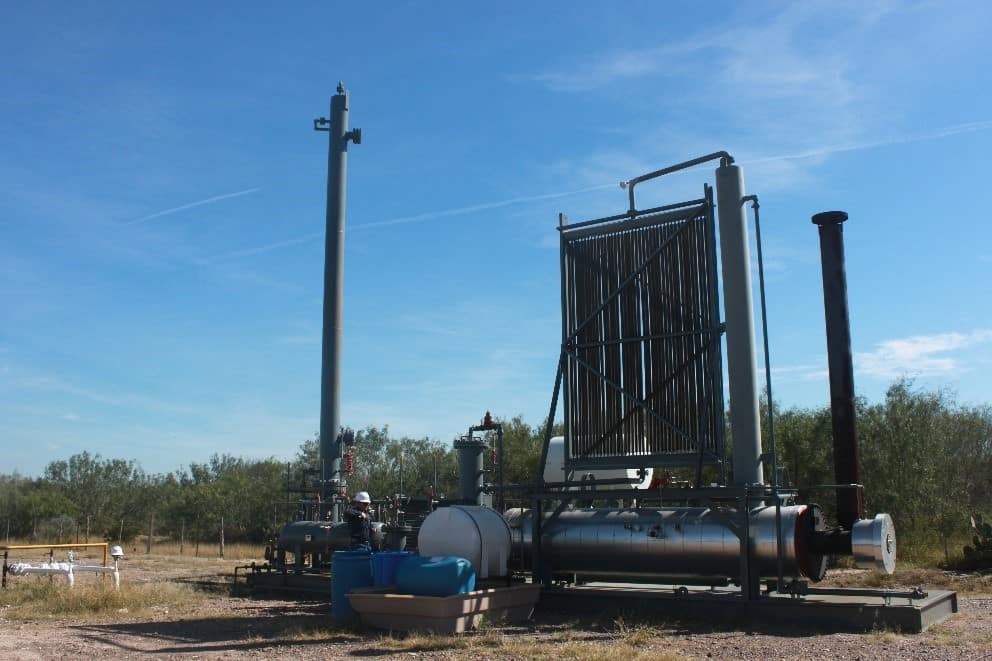 CROFT designs and manufactures gas sweetening amine plants with rates of up to 10 GPM of amine. Using the given parameters above for the particular gas stream, CROFT proposed the most efficient system to handle the required specifications. The proposal included the equipment, start-up, monthly operations, and troubleshooting of any operational issues that involve the Gas Sweetening System.
This system was engineered to handle the client parameters. These amine plants are built in a rugged, all-in-one package to allow easy transportation and installation to greatly decrease delivery and setup time. If the gas gathering facility saw an increase in new wells drilling when prices increase in the marketplace, these amine plants can also be utilized in split stream applications in order to treat H2S volume amounts of H2S and CO2. Therefore, if the well stabilizes and decreases in volume over time and requires fewer gallons of amine circulation, the excess plants can be removed. This method allows the client to treat only what is specified and avoid having over-sized assets in their locations.
Benefit:
CROFT is flexible selling the equipment or leasing to the client in order to mirror the strategy of client with a focus on OPEX or CAPEX. In this case the client wanted to lease the equipment which included service but if they were to purchase the plant the client would receive training and onsite equipment orientations. CROFT is a big believer in proper filtration, so all plants come with multiple carbon and particulate filters to decrease foaming and degradation of the amine.
Result:
The unit was installed, started, and has been fully operational for 4 years. The client saved around 9 times in wasted fuel gas to operate the plant, all plant expenses are put onto CROFT being that it is leased saving from any large upsets and the major expense of amine and de-ionionized water refilling has been reduced because of the lowering of over circulation.
Learn more about our Gas Sweetening System (GSS).