Croft has just installed a Fuel-gas Conditioning System (FCS) for a new client in the Eagleford and is already showing excellent results. The unit, our FCS-500, takes the high pressure/high temperature gas from the discharge of the compressor and cools, separates, dehydrates, reduces the BTU, and reduces the pressure to the required fuel system PSI. The reduction in the BTU that we were able to achieve has made it so our client, a major compressor rental company, could run a lean burn engine on previously unusable gas. Without our FCS unit, the engine could not have been de-rated enough to run due to the gas quality. By renting our unit to complement their chosen compressor, they were able to win the bid for the clients' location, beating their competitors' options on price, emissions, and reliability.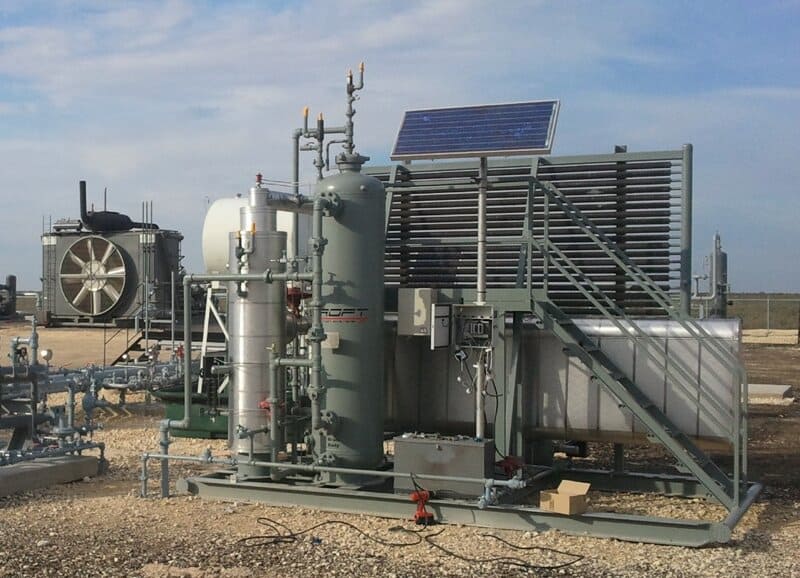 Our all-in-one package and quick availability allowed our unit to be piped in and ready to provide fuel gas before the compressor had been fully assembled. While waiting for the compressor to be ready for start-up, the location operator switched fuel and instrumentation gas for another compressor on-site to our unit. Within 20 minutes the existing compressor went from a rough rumbling that vibrated most of the locations piping, to a smooth purr showing the effectiveness of proper fuel gas conditioning on an engine.
Our FCS units have a proven record of increasing reliability and decreasing maintenance cost for gas driven engines, and with today's production demands, every hour of runtime is critical to field operations. Our unit not only secured this job for our client, but will continue to ensure dependable operations for them by providing consistent fuel gas quality. By dehydrating the gas and cold separating the NGL's from the gas stream, we remove most of the heavier components of the gas that can cause engine combustion instability. We have placed these systems into existing facilities and seen the reliability increase from weekly shutdowns due to fuel gas to 6 months without issue.
If you are having fuel gas issues or planning a site with rich gas, we would be happy to review the parameters to see what equipment we offer will best meet your needs. Our engineering team is happy to run simulations to predict unit performance and our sales team can supply you with a detailed breakdown of the equipment for your project. We keep many different size units in ready or almost ready condition for quick rental or sale.