Most customers dread having to conduct a full cleanout of a TEG dehydrator or glycol dehydrator. The cleanout sometimes implies shutdowns or drop in capacity. One of the ways CROFT designed the Passive Dehydration System (PDS) is to be utilized as a quick, easy, and a temporary way to bypass a TEG and continue to dehydrate the gas while your TEG is shut down and getting serviced/cleaned out.   
Our PDS is a very simple system. It has no moving parts, no powered components, no fires, no boilers, no permits required, and has a modular system structure that has limited emissions. Our PDS is a non-regenerative system, which means it uses a deliquescent adsorbent to dry the gas. The desiccant we use in our system is called enviroDRI.
The Challenge:
A client recently purchased a gas gathering facility from another entity and had two legacy dehydrators working in parallel that have been functioning for well over 5 years. The Glycol Dehydration Units have not been running efficiently and had numerous unexpected shutdowns which prompted the client to do a full evaluation, inspection, and cleaning of the system. For every shutdown, they had to cut capacity by half while one of the glycol dehy unit was being worked on. The client made the optimal decision to clean out their TEG systems but could not lose capacity at the gas gathering facility. To save timing, labor and part costs, the client was going to shut down both TEGs at the same time rather than cut capacity by half for over eight weeks while working on one or the other. With two glycol dehydration units being worked on at the same time the time frame was shut down for three weeks to go through a complete QC of the system and necessary upgrades. The provided the steps that they needed to conduct at for this operation are as follow:
Drain system of existing fluids.
Flush unit until clean and drain.
Remove, clean, and inspect burner flare arrestor assembly.
Remove burner and clean orifice and burner assembly. Replace pilot assembly with BMS pilot.
Remove and clean packing from still column. Replace if necessary.
Disassemble piping and inspect for corrosion and buildup. Clean if necessary.
Open filters, inspect and clean.  Replace elements.
Replace pumps with manufactured tested pumps.
Replace all valves 1" or less if not easily moveable.
Test operation and integrity of all larger valves. Replace seals of any union valves.
Replace entire fuel gas and instrumentation system. New piping, valves, regulators, gauges, etc. Pneumatic instrumentation system will be piped for outside air supply.
Install BMS system. Solar powered with battery backup, Pilot ignition system.
Wire all electronic instrumentation into the BMS or on-skid junction box. Test functionality.
Replace insulation on slash tank, redo caulk on reboiler.
Replace all control valves and level controllers with new.
Replace sight-glasses glass tubes and isolation valves.
Tube all pneumatic controllers into instrumentation system. Test for functionality.
Replace all PSV's with new.
Below is the parameters of the gas gathering facility:
| | | |
| --- | --- | --- |
| Description | Inlet Parameters | Outlet Parameters |
| Gas Volume | 60 MMcfd | Same |
| Gas Temperature | 105 | Same |
| Gas Pressure | 800-1100 PSI | >800 PSI |
| H2S (PPM) | Fully Saturated | <7 LBs |
---
The Solution: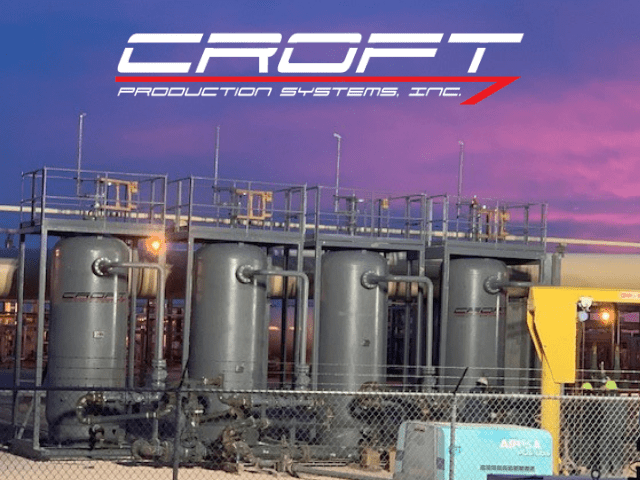 CROFT has designed our Passive Dehydration Systems or PDS as a solid desiccant dehydrator that is safe, easy, and effective in dehydrating the gas stream. When working with the client's parameters we properly sized the system required to meet outlet specs which were 4 of our 60" vessels that can be seen in the picture.
CROFT engineers sized the system to handle the 3-4 weeks of timing without service and to distribute flow to all four vessels in order to decrease the probability of any pressure differential across the system.
Benefit:
Being that the system has no burners, venting of gas, or emissions the client required no regulation permitting and CROFT was able to deliver equipment within 48 hours of the signing of leasing contracts. CROFT personnel were able to provide startup assistance and get the system going within 24 hours of delivery. The system was modular designed, so drawings were sent to clients 3rd party welders to start the piping required for the hookup. The system's desiccant is only utilized when flowing so when the full flown was switched over the outlet dewpoint at the meter decreased from 6.5 lbs/MMcf to <2lbs/MMcf well within the range of specifications.
Result:
The unit worked for the entirety of the project, 3.5 weeks, without interruption handling the volume swings, saturation swings from pressure and temperatures, and maintaining an outlet dewpoint. Once TEGs were back online the PDS systems were released from the facility and the client was happy to see that they were under budget.
Learn more about our Passive Dehydration System.